What We're Reading Now
The Boring Discipline of Self-Care
24 July 2018
Allison read Self-Care Is Not An Indulgence. It's A Discipline. by Tami Forman in Forbes and appreciated the author's assertion that we need to do some boring, regimented things if we really want to be our best selves.
Tags: allison read, balance, diversity, email, mindfulness, sleep, vacation
When I teach our Choosing Balance and Leadership course, I try to help participants use the word self-care instead of selfish. If they've flown before, I remind them that it's important to put on their oxygen masks before helping others. This is often a difficult mental shift for them to make especially if they've spent many years taking care of others before themselves.
So, I like the concept of self-care, but I also appreciate Tami Forman's argument in Forbes that many of us may be approaching the concept in a backward way. She asserts that self-care has been marketed mostly to upper class white women as something having to do with fancy sheets, bubble baths, and decadent trips to spas where we take a break from taking care of everyone else (but not too long of a break because, well, they need us).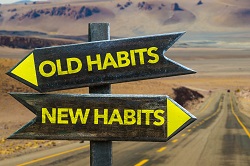 Instead, Forman suggests that it's time to think of self-care as something that, "requires tough-mindedness, a deep and personal understanding of your priorities, and a respect for both yourself and the people you choose to spend your life with." She believes that if you're doing self-care right, the list of things you prioritize is probably pretty boring—putting sleep first so stopping your Netflix binge earlier in the night, saying no, making wise financial choices, drinking a bit less, etc.
This afternoon, I'm teaching a 30-minute course on Techniques of Stress Management for the Chamber Business Diversity Council. I've picked these topics to cover:
I like to think Forman would approve of this list as all the items require more discipline than money. What boring, disciplined self-care behavior should you be practicing?
p.s. I'll be teaching our Choosing Balance and Leadership Course on Wednesday 3 October 2018 in Charlottesville, VA. Please contact me if you're interested in attending.