What We're Reading Now
What Should We Do?
4 August 2015
Allison watched James Taylor and the Lowcountry Voices from Charleston, SC, pay tribute to the nine people shot and killed at Emanuel African Methodist Episcopal Church on 17 June 2015. Then she read March: Book Two, a graphic novel about the Civil Rights Movement by Congressman John Lewis, Andrew Aydin, and Nate Powell, and wondered, "What should we do?"
Tags: allison read, allison watched, courage, diversity, grit, leadership, martin luther king, music
Last week a friend posted a video of James Taylor singing with the Charleston choir, Lowcountry Voices, at his 29 July 2015 Columbia, SC, concert. They sang "Shed a Little Light" in honor of the nine people shot at Emanuel African Methodist Episcopal Church in Charleston, SC, on 17 June 2015. This song has always made me cry, but with the recent violence committed against African Americans across our nation on my mind, I was especially moved as I watched this rendition and then read these lyrics.
"Oh let us turn our thoughts today to Martin Luther King
and recognize that there are ties between us, all men and women living on the Earth.
Ties of hope and love, sister and brotherhood, that we are bound together
in our desire to see the world become a place in which our children can grow free and strong.
We are bound together by the task that stands before us and the road that lies ahead.
We are bound and we are bound.
There is a feeling like the clenching of a fist.
There is a hunger in the center of the chest.
There is a passage through the darkness and the mist
And though the body sleeps the heart will never rest.
Shed a little light, oh Lord, so that we can see, just a little light, oh Lord.
Wanna stand it on up, stand it on up, oh Lord,
wanna walk it on down, shed a little light, oh Lord." (excerpt)
I like to think I do what I can to support diversity efforts in all walks of my life, but as I reflect on these recent national incidents, I find myself exhausted and sad, wondering what it will take for things to change. Every day I ask myself what more could I and others be doing.
Whenever I don't know what to do next, I often look to my brother's three children for insight and wisdom. They have a way of picking up on the most salient points and seeing the next most practical steps to take. In June, I blogged about March: Book One, a graphic novel about the civil rights movement by Congressman John Lewis, Andrew Aydin, and Nate Powell. I then sent the book to my 11-year old nephew, George. He wrote back from his summer camp that he was excited to read it and hoped I would send him March: Book Two, also.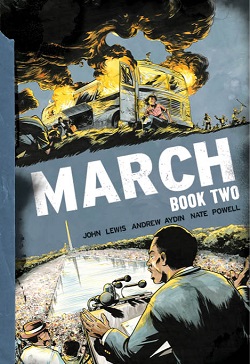 I just finished Book Two this morning before mailing it to him. In my note with the book, I told him it broke my heart to see how violence against peaceful protestors escalated during the civil rights movement in the 60s. I've studied this time in history before, but something about the images and the words in the graphic novel format bring the grittiness of the movement to life. When George and I talk, I will say to him, "Can you believe that Congressman Lewis was only 23 when he became a part of a group of civil rights leaders who would later be known as the Big Six? He spoke at the March on Washington, he trained others in nonviolent methods, and he went to jail for his beliefs! That's only 12 years older than you are right now!"
Then I will ask George, "What should we do?" He and I will let you know what we come up with.