What We're Reading Now
In Remembrance of Julian Bond
18 August 2015
Allison read many tributes to Julian Bond in the days after his death on 15 August 2015 and pondered what she could do in an effort to celebrate his life and continue to build on the things he taught her.
Tags: allison read, courage, diversity, leadership, martin luther king
I first blogged about Julian Bond and his book, Gonna Sit at the Welcome Table, on 15 January 2013, Dr. Martin Luther King, Jr.'s birthday. Like so many fortunate students at the University of Virginia, I got to take Bond's History of the Civil Rights Movement course and was moved by his eloquent storytelling, his often uncomfortable questions, and his penetrating look that called you to do better than you had before.
More than 20 years ago, he was one of a dozen or so leaders at UVA who asked me to consider how white privilege had impacted my life's journey to date and challenged me to be a part of the work for justice that so many were still denied. And while racial justice may have been the starting place for his early work, he taught me to think about inequality on so many dimensions (gender, social and economic class, religion, physical and mental challenges, sexual orientation, and more). He called me into a commitment to diversity, and I'm grateful.
Earlier this summer, I wrote about Congressman John Lewis's graphic novels March: Book One and March: Book Two in the wake of increased discrimination and violence toward African Americans. I sent these books to my 11-year old nephew and Allison Partners blogger, George. Take a look inside one of them, and you'll see how this medium brings images and words together in a powerful way.
Much has been written about how Lewis and Bond grew up in the Civil Rights movement together and then how their relationship was strained after they battled for the same elected position in Georgia in 1986 that Lewis won. I've read they reconciled later in life. Regardless, this post is not about that. This post is about the things I've learned from both of them and how they've inspired me to think harder and ask bigger questions of myself and others.
After this week, I'll have given Lewis's graphic novels to four families with 11 children whom I love. Five are black and six are white. They live in Virginia, Maryland, and North Carolina. I've known these young people ages eight to 16 since they were babies. They teach me things every time I'm with them, and we have so much fun together.
I'm asking them to read Lewis's books and talk with me and each other about what they learn. I will ask them, "What should we do next to fight discrimination, end violence against others, and build stronger relationships across different communities?" "What other questions should I be asking you?" They've known me their whole lives so these questions won't surprise them. I'll let you know what I learn from them, and this will be my small tribute to Julian Bond's memory. He taught me that the small things add up to be big movements so I like to think he might approve.
On 30 January 2013, I got to attend A Living Legend: The University of Virginia Honors Julian Bond. We celebrated his life and enjoyed a screening of Julian Bond: Reflections from the Frontlines of the Civil Rights Movement, a film by Eduardo Montes-Bradley. Like so many people that night, I was delighted to take a picture with Julian Bond and I know my friends in the picture cherish this memory, too. Thank you for every single thing you taught me, Professor Bond. I will keep trying to do better.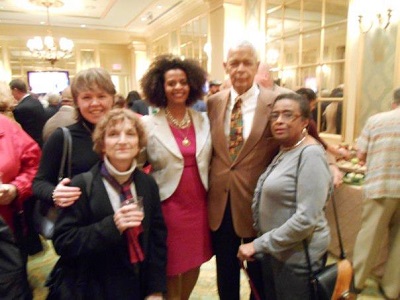 Allison Linney, Nancy Coble Damon, Leontyne Clay Peck, Julian Bond, and Marie Coles Baker (left to right)