What We're Reading Now
Sleep Hygiene Advice from a 10-Year Old
5 August 2014
Allison read her nephew's first Allison Partners What We're Reading Now blog post and is excited to share his advice on how kids and grown-ups can get a better night's sleep.
Tags: allison read, balance, georgeiv read, sleep
My nephew, George Edward Linney, IV, came to visit me in Charlottesville last week. We had a blast! He went to Triple C Camp every day where he won the Most Enthusiastic camper award in his group of 10-year olds. (I'm more than a little proud of him.)
We also had all sorts of fun each night and on the weekend before we flew to Asheville, NC, where I dropped him off at my childhood summer spot, Eagle's Nest Camp. There's very little I enjoy more than hanging out with this super smart, funny, kind, and thoughtful kid. He's also one of my favorite writers and earlier this year I blogged about his poem, Running!
George will be the first to tell you that sometimes he has a hard time getting to sleep and that he often wakes up in the middle of the night thinking about all sorts of things. On his first night with me, I gave him a book Rachel picked out for him at one of our favorite local shops, Telegraph. Then he read all of my blog posts about sleep and we had a lot of conversations about good sleep hygiene. It is with great pleasure that I present to you George's first Allison Partners blog post. Prepare to be educated…
George read Nocturne: Dream Recipes by Isol and is glad to have a new plan for putting himself to sleep.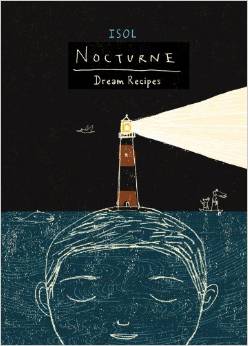 I think sleep is very important especially for young children like me. My aunt Allison writes a lot of blog posts about sleep and good sleep hygiene. Last Monday, I got a book called Nocturne: Dream Recipes by Isol. How it works is that every night you pick a dream that the book has for you. Then you put it under a bright light and quietly stare at it for a couple of minutes. While I'm staring at the dream I picked for the night, I also do my Aunt Allison's breathing exercise. All you do is breathe in and breathe out and then tell yourself you are relaxing.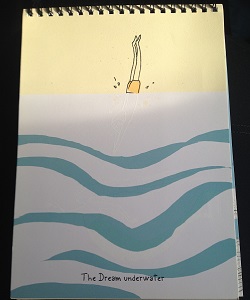 When you're done staring at the dream and breathing, you turn off the light and the dream will glow with new pictures you can only see in the dark. I like all the dreams, but my favorite is the dream underwater. This book has helped me sleep a lot better because usually I wake up in the middle of the night and now I don't. So even if you're a grown-up you should get this book. – GEL IV
Based on what he read in my blog posts and our discussions, George said that he's going to do a better job of putting himself to sleep and that he doesn't need his parents to tell him it's time to go to bed. He told me he's going to stop watching TV before bed and go to his room on his own 30 minutes before bedtime. (George said that would really shock his mom and dad!) He's going to brush his teeth, read for a little while, and then pick a dream from his new book.
What's your plan for better sleep hygiene? George is challenging you to come up with a good plan for yourself and hopes you'll tell him all about it in the comments section below.