What We're Reading Now
26 May 2011
Allison watched the last Oprah show and reflected on 25 years of good life lessons and the things she'll always remember from Oprah's final love letter to her viewers.
Tags: allison read, allison watched, brene brown, courage, diversity, greer dawson wilson, maya angelou
I've been an Oprah show viewer for a very long time. Not all the shows resonated with me, but I always made sure to check in and for the past 10 years, my TiVo has been busy recording at 4:00 on weekdays so I could look for what mattered most. It's a bit sad to get home tonight and realize that Oprah isn't waiting for me so I've decided that while we usually blog about things we're reading, it's fitting to make an exception. I'll do three things in this post. First, I'll tell you a story of how I feel connected to Oprah through my special mentor who died in 2004 (Dr. Greer Dawson Wilson has appeared here before). Second, I'll sum up what I hope to never forget from yesterday's show. And finally, I'll tell you about two young girls who are very dear to me and what they thought about the final Oprah show.
While I always paid attention to what Oprah was up to, I especially started tuning in when my mentor, Dr. Greer Dawson Wilson, invited me to spend the day with Dr. Maya Angelou before her presentation to the University of Virginia in 1994. Dr. Angelou was a mentor to Greer and is a very important mentor to Oprah. That day changed me forever as I listened to her recite poetry, tell story after story in Greer's living room and then turn to me and say, "I believe you will do important things young lady." I was speechless (and that doesn't happen very often). Those words of inspiration lifted me up during many difficult times in my life.
Then Oprah asked Greer to play the piano for her 50th birthday. I remember with delight how she prepared and all the stories she brought home. Finally, when Dr. Angelou returned to Charlottesville to perform at The Paramount Theater in 2007, we spent some time together remembering Greer. All my years with Greer and two days with Dr. Angelou made me feel connected to Oprah in some small way. And watching her shows brought me such comfort after Greer died in 2004. I think a lot of people have stories like these; ways that watching Oprah made them feel connected or brought them comfort and I've enjoyed being a part of that global, virtual community.
Now let me say a few things about yesterday's show. It was Oprah's self-described love letter and words of wisdom for her viewers. The big splashy surprises, famous guests, and performances were taken care of on Monday and Tuesday during the Farewell Spectacular in Chicago's United Center. Yesterday was just for Oprah and the millions of viewers who made her "feel genuine kindness, affection, trust and validation" for 25 years. While there were parts of the show that felt a bit more like a monologue than I'm used to with Oprah, I also think that was just fine for her swan song and I'm glad she did what made her happy. Here's what I'll always try to remember (paraphrased for sure):
Be yourself.
Your real job in life is to figure out what you're supposed to be doing. You have to make a living, but you have to figure out what sparks the light in you. Not everybody gets paid for their calling, but they must still find out what they have been called to do in this world and get busy doing it.
Stop making bad choices and blaming everyone but yourself. In the end it just doesn't matter what your mama or daddy did or didn't do. Own your choices and start making different ones.
You are responsible for the energy you put out into the world and that energy will come back to you so choose carefully.
Don't wait for somebody else to save you, fix you or complete you. Jerry Maguire was just a movie.
Release your shame. You are not alone. (If you're wondering why this one matters, check out my recent post about Brené Brown's TedTalk).
Be still and listen for that inner voice. What is it trying to tell you?
Remember your yellow brick road of blessings. Oprah loves The Wizard of Oz and often reminded us what Glinda the Good Witch told Dorothy, "You always had the power."
When the show was over, I called my friends Nadia (9) and Nalani (7) in Fort Washington, MD. They had watched the show with their mama, Natalie, my longtime friend, mentor and now member of the Allison Partners team. They call me Aunt Lil Bit and it's a name I relish.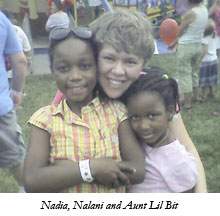 I asked them what they liked most. Nalani said, "I liked how the people on Miss Oprah's show had the courage to say things on TV that they had never been able to say before." And Nadia said, "I think it's good that a big man like Tyler Perry could show his emotions on TV." There you have it. Out of the mouths of two young, beautiful, strong girls who know they are enough and walk in a world that I believe is genuinely better for them because Oprah helped us to know ourselves and others and encouraged us to dream a bigger dream. I know Nadia and Nalani are going to do very important things and I tell them all the time because I know how much those words mean. Thank you, Oprah.