What We're Reading Now
What William Knows About COVID-19
24 November 2020
Allison asked her 13-year old nephew William what he's learned about how to navigate 2020 with the hope that his wisdom might be helpful to people as they continue to find the strength to be safe and happy in the midst of COVID-19. Once again, William delivered!
Tags: allison read, covid-19, what william knows
William is my youngest nephew and has always possessed a wisdom that makes me feel like I'm talking to an older soul. He first shared his insights with my readers during Thanksgiving 2014. I was recovering from a breakup with a guy I had hoped might be "the one," and seven-year old William took especially good care of me that year. In his first post, he explained the importance of hugging, complimenting people, having a lovey, listening to the Beatles, being called weird at least once a week, and more. You can learn from all of William's past posts here. Many of my readers have especially appreciated his advice on how to recover after your pet dies.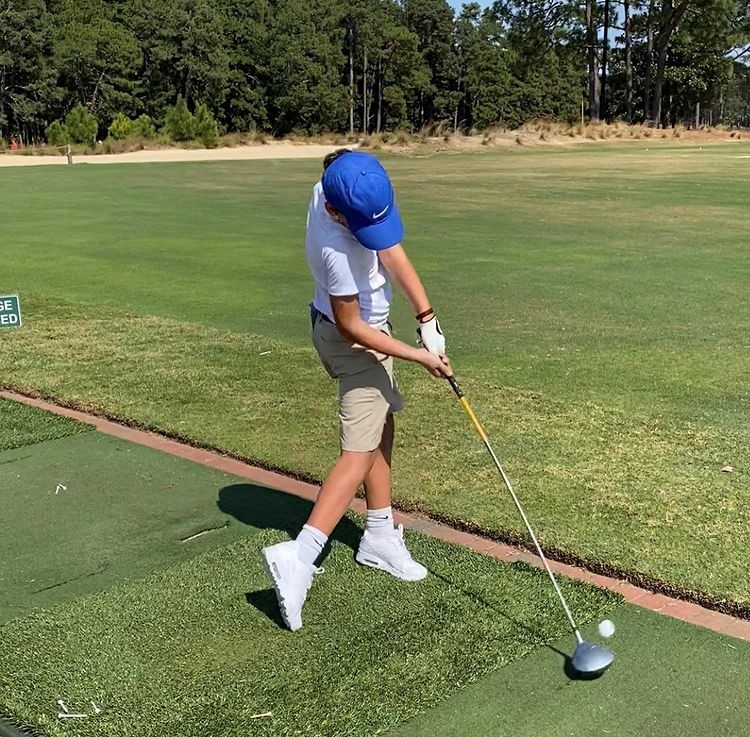 William Before Playing The Cradle: Pinehurst's Par-3 Short Course
This Thanksgiving we'll be celebrating on the Zoom, but William and I agreed that writing a post was a great virtual activity. We watched a lot of Braves baseball "together" on FaceTime this year and when the playoffs ended for us last month, I asked him to start thinking about his advice for how to live during COVID-19. Here are his recommendations:
Get as many fun masks as possible so that in COVID times you can still have good times.
Learn to play golf or other outdoor activities. (William is so glad he has golf with his dad (my brother) and was impressed I'm learning to fish!)
Get a really comfortable chair for school or work because we're probably going to be doing this virtual thing for a long time. (William gets to go to school two days a week and is virtual three days a week.)
Save your money and upgrade your internet. Help another family upgrade their internet if they can't afford to do it themselves.
Take notes on paper instead of on your computer. (See what I mean about William knowing things beyond his years?)
Ask to go the bathroom if you need a break from your classroom when everyone is wearing masks. Keep your mask on but sometimes just leaving the room helps you make it through the day, and it's always a good idea to wash your hands one more time.
Talk a little louder and more clearly. It's the enunciating that really matters.
Smile hard when you're wearing your mask so people can see your smile in your eyes.
Do your homework with friends on FaceTime. You don't have to talk the whole time, but you can just be together, so you don't get lonely.
Try to look up at the sky every day.
Get out of the house and go to places that are safe and doing it right.
Exercise every day. William and his mom try to run a mile each day. It doesn't always happen, but he's always trying to make it happen.
It's probably time to invest in a stationary bike or elliptical machine if you can.
Zoom with your family since you can't visit and show them your decorations, your table, and what you're eating.
Watch Home Alone because it's the best Christmas movie. Ever.
Binge some good TV but also consider saving things to watch together next year.
William reminded me that last Christmas he promised me he wouldn't watch The Mandalorian with any of his friends so that he and I could binge it together this Thanksgiving. I asked him if he wanted us to binge it together virtually instead, and he said, "No, Allie. We'll get to be together at Grammy Charlotte's house again one day, and we need something to look forward to when this COVID thing is over." Thanks, William. I needed that.