What We're Reading Now
What William Knows
25 November 2014
Allison walked into the waiting arms of her seven-year old nephew, William, and remembered that kids know the most important stuff. (I asked him to make a list for you.)
Tags: allison read, gratitude, happiness, what william knows
The rain and everyone trying to beat tomorrow's weather made for a longer drive than usual to my parents' house in Charlotte, NC, today. My reward was opening the front door and finding my youngest nephew, William, waiting for me with open arms.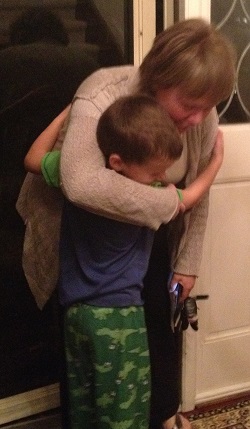 There's nothing quite like having someone be so glad to see you. After dinner, I told William I still had to write my blog post and I asked him what advice he had for my readers. Here's what he had to say:
It's important to hug people.
You need to listen to the Beatles. It's a part of life.
If you haven't been called weird at least once a week, you're doing your life wrong.
Don't worry. Be Happy. (Michelle says that on the TV show, Full House.)
You need to give people compliments. William just told me I'm pretty, good looking, my glasses look awesome, I've got awesome guns, my pet is awesome, and I'm even more awesome. And I'm a likeable person. (He's right. I haven't felt this good about myself in a long time.)
If you don't run twice a week, you're doing your life wrong.
You should have a lovey. (William's is a duck and he's just not quite ready to give it up and he's not sure if he ever should.)
You should believe in yourself.
You should have fun every day.
You should watch TV every day because it's entertaining.
Joey is adorable, adorable, adorable, adorable, and extra adorable. It's a good idea to have a dog.
You should participate in things that the people you love are doing.
Finally, be awesome.
Yes. All of that. Thank you, William.