What We're Reading Now
What William Knows About Losing a Pet
6 June 2017
Allison called her nephew, William, to wish him a happy birthday, and he shared some wisdom about how to handle the death of a pet.
Tags: allison read, grief, what william knows
I woke up this morning thinking about my nephew, William. Today is his 10th birthday, and he is truly one of the wisest people I know. When he was seven, he helped me to write this blog post. The next year he shared these eight-year old lessons in living. Here are some of my favorite tips from those posts:
It's important to hug people.
You need to listen to the Beatles. It's a part of life.
If you haven't been called weird at least once a week, you're doing your life wrong.
Joey is adorable, adorable, adorable, adorable, and extra adorable. It's a good idea to have a dog.
If you're feeling sad, go to your room, put your face in your pillow and cry so you can just let it all out.
If you're buying a TV, you should buy a big one because in this case bigger is almost always better.
If you meet someone who looks really different than you or has a different color skin than you do, you should ask him his name, tell him your name, ask him if he wants to play and then realize in your mind that even if he looks different than you, he's still a kid and probably wants to play, too.
If you want to be a good family member, you have to be honest, keep an open mind, be kind, and don't be mean.
I bet these lessons will make you want to read the other things he taught me in 2014 and 2015. As we were talking about important 10-year old stuff this morning, I asked William if he could teach me something today. William and I had already talked yesterday about how I'm doing after putting down 17-year old Joey the Wonder Dog last month so he knows how sad I am. He also remembers what it was like to put down his dog, Sallie. Here's what William suggests people should do when their pets die:
Cry as much as you need to.
Get a new pet when you are ready, but remember that this schedule is different for every family.
Make a lot of new happy memories with the next pet.
Remember the old pet but try hard to move forward.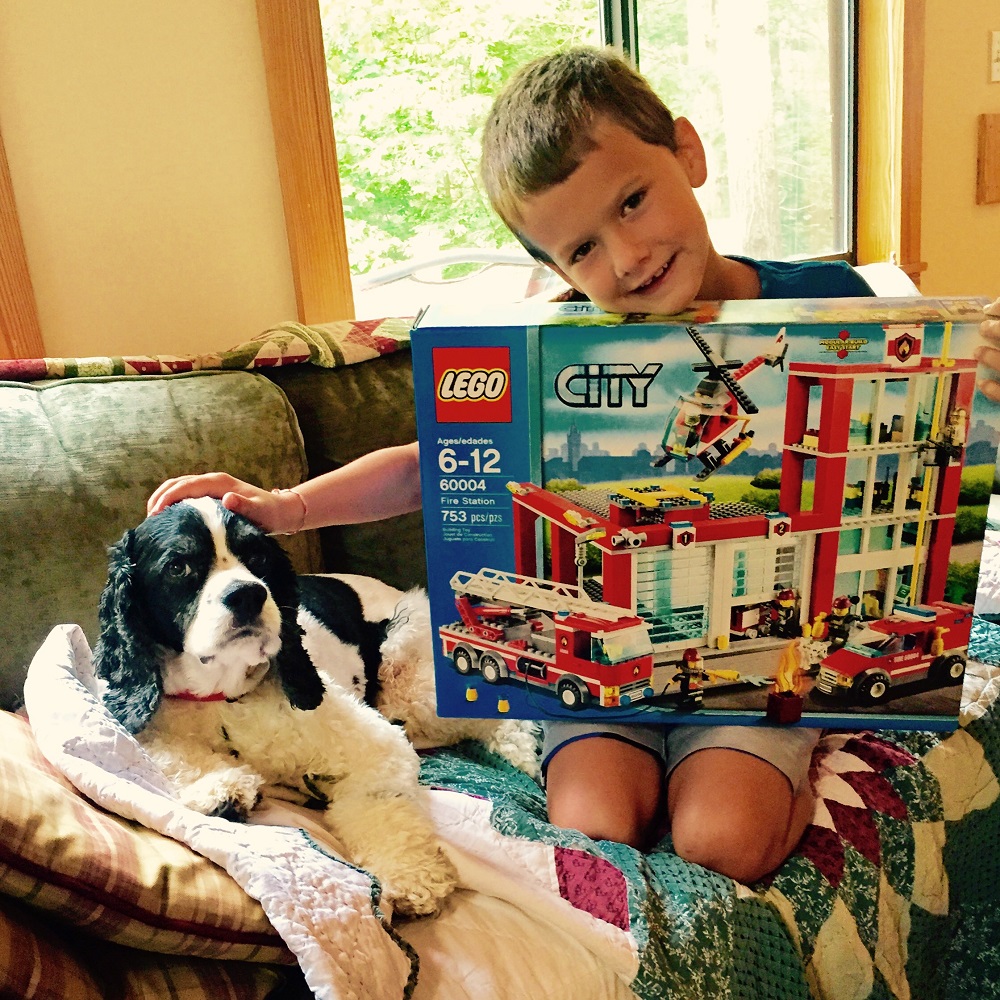 Joey the Wonder Dog (15) and William (8) in 2015
Thanks, William. As always, you know exactly what I need to hear. I sure am glad you were born 10 years ago, and I'll do my best to follow this advice. Love, Allie