What We're Reading Now
This Stuff Just Might Work
28 August 2012
Allison read the directions for how to assemble three pieces of furniture for her house in record time and proved to herself that what she wrote about in last Tuesday's blog post really does work.
Tags: allison read, communication, lego lessons, mbti
We take self-improvement pretty seriously at Allison Partners. With the right tools, a little support and some practice, we believe people can develop news skills and change their behaviors. So when I wrote last Tuesday's blog post about how I played with LEGO® as a way to help bolster my ability to manage details and do things in a step-by-step manner, I meant what I said – developing your less preferred way of doing things is important and possibly even easier if you have fun while you're doing it. But sometimes even I wonder if I drink from the self-help Kool-Aid a little too freely and I certainly wouldn't be surprised if you wonder that too. I'm happy to report that after a weekend of home improvement, I'm even more confident that what I recommended last week actually works.
After taking a picture for last Tuesday's blog post, I realized I was running out of room on the table I use to display my LEGO projects. I also decided it was finally time to get two new bookshelves (after all, our blog is called What We're Reading Now). I've had these purchases on my mind for quite a while, but the possible demands of "some assembly required" kept me from taking the next step. I have nine clients coming to the house for dinner tomorrow so I found myself inspired to spruce things up a bit. As I feared, each box had detailed directions and lots of little screws, cam bolts, wooden dowels and nails. But I took a deep breath and focused on enjoying a house full of happy guests. It's often helpful for an iNtuitor in Myers-Briggs Type Indicator terminology to imagine a future state and new possibilities if she wants to get through an unpleasant Sensing task. You can read last summer's LEGO blog post to learn more.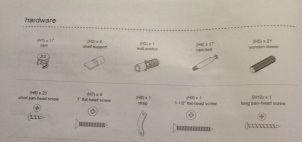 Much to my delight, I calmly read the directions and did everything in a step-by-step manner and much more quickly than I would normally tackle these kinds of projects. I believe Professor LEGO would have been very impressed by my calm, patient and profanity-free approach. And now I have a much nicer table and room to display next summer's LEGO project.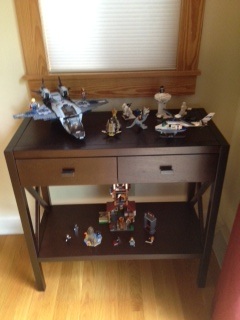 Professor LEGO says next year I'll be ready for the "bucket." Evidently, he'll just get me a bucket of 1000+ bricks and I'll have to dream up my project and go free form. I get a little nervous just thinking about it, but I'm more confident than ever that I'll be up to the challenge. And you can be sure I'll have a new video to share with you and inspiration for a 2013 Tuesday blog post. Until then…