What We're Reading Now
Still Possible
7 December 2021
Barbara watched David Whyte's Zoom sessions titled Still Possible and learned a new way to live one day at a time.
Tags: barbara read, barbara watched, covid-19, david whyte, mindfulness, poetry
David Whyte, a poet I love, has offered Zoom sessions for three Sundays in a row every other month since the COVID-19 shutdown began for $60 (or less for people who have suffered financial hardships). Before March of 2019, I'd been to see him 8 times in person over the last 25 years, and I paid a great deal more than $60. Several of those times were weekend retreats with small groups. I even hired him to speak when I was a Vice President at the American Association for Physician Leadership.
But in the last 21 months, I've realized these virtual sessions where he recites poetry and tells stories for an hour and then answers questions for 15 minutes seem like the most up-close contact I've ever had. He looks straight into the camera, and the hour feels like a personal conversation with him in his home. (However, last month it was exciting to see him in his friend's home in Oxford, England! He has just begun to travel again and is continuing his virtual sessions on the road which is very satisfying since I'm not quite ready to travel yet.)
He talked about how his whole life has been based on traveling all over the world, taking long walks wherever he was, and writing poetry that grew out of the new experiences he constantly had. He wondered if it was still possible to write when he stayed home and only walked his neighborhood in Whidbey Island, Washington. He found it was, and the title of the new book that will come out in December is Still Possible. It is ready for preorder now.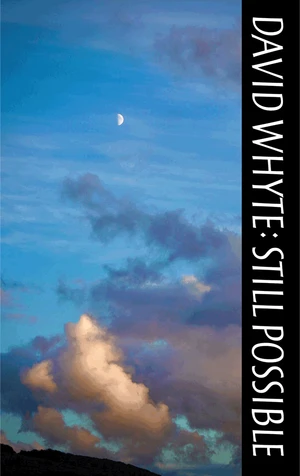 He read a portion of the title poem in the last November session and posted the same lines on Facebook that week. The words offer a positive way to look ahead, in spite of not knowing what is going to happen.
"It's not too late to imagine
that the days to come
are the lost children
you are still to bring to birth
and bring to maturity,
and that you are ready
once more to be selfless
on their behalf,
setting them to rights
when they fall, listening
when they lose faith,
being that mother or father,
who through all their difficulties,
gives the gift of constant witness."
As he read these words, I felt a shift in my emotions which always signals to me I like a poem and that it has touched me in some way. The words describe the kind of mother I tried and am still trying to be. These lines of poetry are helping me to feel like I can look to the future with a plan of how to approach each day as a gift and a beloved child.

The Tuesday before Thanksgiving I first tried putting his advice into practice. I walked, finished an oil painting, had a 1½ hour conversation with a friend, talked to my therapist for 50 minutes, looked at the trees outside my house, picked up a prescription, and awaited the arrival of my daughter for the holiday weekend. I brought that day to maturity in a way that satisfied me, and I have continued to view each day with his poetic words in mind. I am trying to be a good parent to each day rather than thinking about all the days to come.
My daughter has helped me and so many others name our COVID silver linings as a way to cope with what we lost and what continues to be difficult to navigate. David Whyte's virtual sessions will forever be one of my silver linings. He has a onetime event on 12 December called Friendship: The Key to Happiness at Every Level. Then, he begins the three Sunday sessions again on 2 January, titled Start Close In: Shaping Our Lives to an Inner Simplicity: and an Outer Creative Life—Equal to the Challenge of Our Times.
I'm excited to attend these January sessions "with" David and invite you to join us, too! Let me know if you'd like to "travel" with us and then discuss the sessions on the Fridays after his sessions in January 2022. I did this with a small group of people via Zoom after his November 2020 series and would love to gather a group together again in the new year. If you're interested, please contact me here.