What We're Reading Now
Would You Like to Meet My Literary Crush?
29 September 2020
Barbara watched David Whyte's Three Sundays online series, Half a Shade Braver, and was comforted and encouraged to keep on tolerating the unknown without going bonkers.
Tags: balance, barbara read, barbara watched, covid-19, david whyte, health care, healthcare, poetry
Yvonne's evocative post last Tuesday about The Heart Aroused: Poetry and the Preservation of the Soul in Corporate America reminded me of how my literary crush on David Whyte began. In 2000 my boss called me and said, "Go out and buy The Heart Aroused, read it, and then get the author to come to our annual meeting in Houston, TX." I followed his instructions, talking often to Whyte's scheduler Julie. He is a poet and international corporate consultant who regularly speaks to a wide range of audiences—businesses, church groups, literary societies, so I had to do some significant negotiating to book him.
Some of our members at the American Association for Physician Leadership (formerly the American College of Physician Executives) liked him. Some did not. He talked about what they described as touchy-feely stuff—self-reflection, self-revelation, and poetry. Those have never been their most comfortable topics, but over the years we've learned that helping physicians learn about these things is one way to combat burnout in healthcare.
I thought he was fantastic. I've had a love-hate, mostly hate, relationship with poetry all my life. David Whyte changed that to mostly love. He'd recite a poem, explain it, recite it again, and talk about what he was thinking and feeling when he wrote it. That was what I wanted dead English poets to do when I was in college. They couldn't, of course, because they were dead, so I expected the professors to make a good stab at it. But none of mine did. They just asked pointed questions that made many in the class look stupid. They favored the few students who had the same thoughts they did and never invited a new interpretation.
Whyte on the other hand, made poetry accessible. I've heard he has memorized at least 300 poems. With his lilting English accent, he begins each session by telling stories, reciting a few poems, and asking enough questions to find out the general mood of the audience. Although sometimes it seems he immediately picks up on the feelings of the room through mental osmosis. He didn't need to work to discover the desperate, sad, fear in the group when I heard him speak one month after the 9/11 tragedy. That weekend workshop in Vermont at the Trapp Family Lodge was a graduation gift to my daughter Allison when she finished her MBA at UVA's Darden School of Business and over time Whyte would inspire many of our blog posts.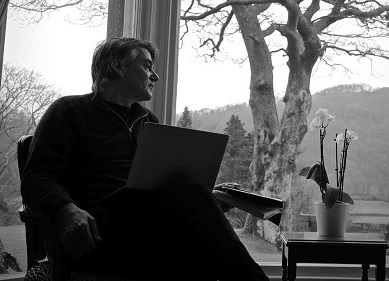 image taken from www.davidwhyte.com
As his sessions unfold, Whyte chooses poems out of his memorized collection that exactly fit the moment. I've heard him recite the same poems many times, but he is such a fabulous storyteller that I eagerly await what nuances he'll emphasize or what new tales are added based on life's current events. The connection between him and the audience is palpable.
He always asks you to ask yourself difficult but beautiful questions that often have no quick answers. During COVID-19, he's been conducting what he calls Three Sundays online series. In April, he helped me to keep the early panic of the pandemic at bay and inspired this post. This month, he asked:
"What do you need to say no to? Say no to everything in your life that is not an enormous yes.
In whose presence do you come alive?
Where do you go now that you have accomplished all your young person's ambitions?"
For nearly 20 years I've been infatuated with him and his poetry. I turned into a real groupie the way young girls are about rock stars. I've heard him speak multiple times since 2000—first in Houston, TX, for work and then I was thrilled that he came to my hometown of Charlotte, NC, to speak at the CPCC Sensoria Spring Literary Festival. Then I traveled to see him in Stowe, VT, Durham, NC, and Charleston, SC (three times). Each time, I brought my son or daughter with me and once we saw him together in Harrisonburg, VA.
Just last year in January 2019, my son George and I went to Pacific Grove, CA, for a weekend to hear him at the Asilomar retreat center. We had planned to go to Ashville, NC, this May for another one. And then everybody's life changed.
Adapting in the way he teaches others to, Whyte has offered 1.5-hour Zoom sessions on three Sundays for $60 (or less if you need financial support) in April, May, July, September. These sessions have been the most intimate of any of my Zoom experiences. He speaks from his home office, has wonderful direct eye contact with the computer, and slows his pace considerably from his stage presence. I liked seeing him up close and felt he was sitting across from me rather than in Whidbey Island, WA.
He is offering another three sessions on November 8, 15, and 22 at 10:00am Pacific Time entitled The Invitational Identity: The Art and Practice of Shaping a More Beautiful Mind. Would you like to "go" with me? If a group of us decides to do this, I'd be happy to facilitate our own Zoom debrief the Monday after each of his Sunday experiences. I highly recommend them as a way to be enriched and emboldened in these trying times. Having you attend with me where we don't don't need plane tickets or hotel rooms would be a COVID-19 silver lining!