What We're Reading Now
P-Rod's Last Lecture
13 May 2014
Allison watched Professor Peter Rodriguez's Last Lecture at the University of Virginia Darden School of Business and contemplated how to get you to watch it, too.
Tags: allison read, allison watched, courage, diversity, grit, leadership, uva
The Last Lecture series at the University of Virginia is a 22-year old tradition, but the Darden School of Business just had its first last lecture last month. (That's a fun sentence.) My good friend and colleague, Professor Peter Rodriguez, was the inaugural speaker for Darden's new tradition and what he chose to share with people simply blew me away. Even as I watched it again this afternoon to write this blog post, I found myself laughing and crying (a lot).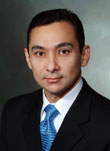 My task today feels larger than usual. How do I convince a few of my readers to watch P-Rod's 50-minute Last Lecture? (That's right. I said P-Rod because that's what we call him.) As you'll hear in the introduction, P-Rod does many things, but I especially like that his work as an economics professor has an "emphasis on understanding and combating corruption," and that he's the Chief Diversity Officer at Darden. It always makes me a little sad that I didn't get to have Peter in the classroom, but fortunately I still get to learn from him all the time since I'm the Chair of the Darden Dean's Diversity Advisory Council. This means that Dean Bob Bruner, P-Rod, and I spend a lot of quality time together thinking about diversity and taking action to ensure we meet Darden's goal of leveraging difference and encouraging inclusion. (Our previous Chief Differsity Officer, Professor Martin Davidson, has taught us a great deal about leveraging difference, and in fact, "the end of diversity as we know it.")
When faced with a daunting task, why not bow to the master, and offer a David Letterman-like Top Ten List? (Okay, it won't be that funny, but perhaps I'll get points for effort.)
P-Rod's funny. Really and truly funny. (Don't let his super serious mug shot fool you.) At least he'll help you pass the time while you're on the stationary bike or elliptical machine. (I think you'll laugh so hard you might hurt yourself if you try to watch this while running on the tread mill.)
You'll understand why questions are more important than answers. Suppose you get an answer but it's to the wrong question? You better learn how to ask big questions.
He'll help you answer these two questions, "What should I do next and how should I conduct myself?" (He'll tempt with you the possibility that he can answer, "Why are there Cubs fans?" but alas, he just teases you with that one.)
You'll learn to pronounce and understand Zoroastrianism which will help you figure out why it's so important to have good thoughts, good words, and good deeds (in that order) if you want to be a good leader.
You'll learn to talk to yourself more than you already do. But more importantly you'll learn how to talk to yourself so you can be a great self-coach.
Have you ever wondered how you know if you're in love? P-Rod can tell you.
He'll explain to you why you need to be just a little crazy and infectiously enthusiastic about what you're doing in your life. If you're not, find something new to do. If not now, then soon. Very soon.
You'll get lessons in pure grit and toughness from Katherine Hepburn and Peter's grandmother who was one of seventeen children. He gives the best, "bad stuff happens, deal with it," speech I've ever heard that didn't leave me just wanting to kick the speaker in the teeth.
You'll get a shot of courage that will help you to be bold and give up your fear of failure.
You'll finally understand why you don't always have to be nice, but you must always be kind.
Have I convinced you to watch? I hope so.