What We're Reading Now
Make Your Dreams Come True
24 July 2012
Allison read Martha Beck's column from the January 2011 O, The Oprah Magazine and learned a way to approach goal setting with a better chance of getting what you really want.
Tags: allison read, balance, happiness, leadership, management and supervision, martha beck, writing
I'm a pile maker. I know where things are in my piles and generally my piles make me oddly happy and actually help me get work done. Even when I'm up to date on filing, I'm always going to have a few working piles. Piles tend to be more appealing to people who prefer iNuition in Myers-Briggs Type Indicator terms (I blogged about how this preference sometimes gets me into trouble last year). But over the last two or three years, the piles got pretty out of control and it became clear that we needed help with the administrative side of Allison Partners. So Rachel and I started doing what we'd encourage a client to do--from writing a job description and assessing our finances to taking time to visualize the impact of the role on us and the business.
I'm delighted to report that in April our dream candidate, Jennifer Hux, accepted our offer and became Allison Partners' Office Manager. If you read her bio, you'll know Jennifer has a deep background in human resources; what you might not learn just from reading is that she brings exactly the calm and cheerful energy we like to have in our office. Jennifer has worked with us on and off over the years and we were so glad to have her join us in a permanent role. She started making things better for us her first day and I'm especially grateful because now I'm back to just a few working piles.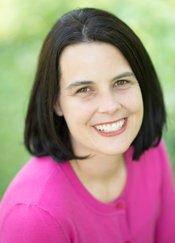 photo by Cramer Photo
As Jennifer helped me to get my office back under control, I found many great articles that Rachel had cut out for me in the last few years (she's always on the lookout and that's one of the reasons our blog is called What We're Reading Now) and several were from Beck's column. When I started reading Martha Beck's article from the January 2011 O, I thought to myself, "Yes! This is a great way to help people set their goals."
Beck's article provides one of the best approaches to goal setting I've ever seen. She adopted a new methodology after she helped several clients meet their stated goals, but then learned that they weren't happy with their achievements because they hadn't really gone after the right dream. Now she encourages them to follow these four steps (the steps are hers and the words in parentheses are my translation based on what I read).
Step One: Pick a Goal, Any Goal
(be honest about what you really want)
Step Two: Gaze Into the Future
(use your curiosity and imagination to dream up a super specific future state)
Step Three: Generate Adjectives
(focus on how you want to feel and describe those feelings in great detail)
Step Four: Focus on Anything That Can Be Described With Your Adjectives
(use your step three adjectives to fine tune your step two fantasy to make sure both are in agreement so that you can determine the exact action items you need to pursue and really go after what will help you feel the way you want to feel)
I hope this summary has piqued your curiosity enough that you'll read Beck's article and start making your real wishes a reality. Rachel and I followed a lot of these steps to achieve our Office Manager goal, but I bet we're really going to enjoy pursuing our next goal using Beck's approach. I wonder what we'll wish for. In the meantime, thanks so much to Jennifer for saying, "Yes," and making our dream come true.