What We're Reading Now
Help for Insomnia from SHUTi
13 December 2016
Allison read and watched news coverage about SHUTi and was pleased to learn more about how this Charlottesville-based business is helping people address insomnia.
Tags: allison read, allison watched, balance, chris winter, health care, healthcare, sleep
Earlier this year, I was talking with a group about the importance of sleep and techniques for improving sleep hygiene. (The things you need to do to give yourself a good chance of sleeping.) A woman in the group said to me, "You know, I would sleep if I could. You don't have to convince me that sleep is important or that I need to make time for it. I've also really tried all the sleep hygiene changes everyone recommends, but I still have terrible insomnia."
If you've done all you can on your own to set yourself up for better sleep, it's important to talk with a doctor to make sure there isn't something medically impacting your ability to sleep. Locally, I refer people to Dr. Chris Winter, a longtime friend and now well known expert (especially among professional athletes). His book, The Sleep Solution, will be released in April 2017.
However, I'm also glad there's another resource (approved by Dr. Winter) in addition to your doctor to help with chronic insomnia. I first saw the SHUTi team (Sleep Healthy Using the Internet) present their sleep solution in March this year. As you'll see on the web site:
"SHUTi was created to help you overcome insomnia using Cognitive Behavioral Therapy (CBT) for insomnia techniques. Cognitive Behavioral Therapy for Insomnia (CBT-I) is a short course of therapy aimed at retraining your mind and body for great sleep. CBT-I is the preferred choice insomnia treatment according to the Clinical Guidelines of the American Academy of Sleep Medicine, the Center for Disease Control and the National Institutes of Health. Studies show CBT-I produces the same level of improvement as sleeping medications without the risk of dependency on pills or other adverse side effects. Instead, CBT helps you learn techniques to break the cycle of thoughts, feelings and behaviors that interfere with restful sleep. These powerful tools and knowledge produce a lasting and more permanent improvement in sleep patterns."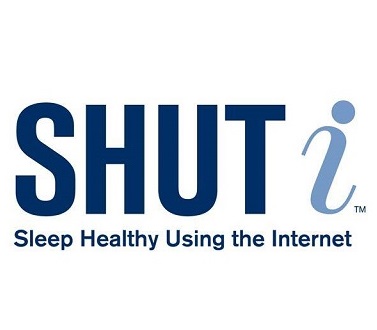 Last month, The New York Times published an article about the SHUTi solution and last week NBC Nightly News reported on the story, too. At a price point of $135 for 16-weeks of access, SHUTi is more affordable than some of its competitors. Even so, I'm hopeful that one day SHUTi will be covered by health insurance.
I'd like to hear directly from some people who've tried SHUTi so I asked the CEO if he would be willing to provide me with a few free subscriptions. He said, "Yes," so if you or someone you know is interested, please get in touch.