What We're Reading Now
Graphic Lessons from Congressman John Lewis
30 June 2015
Allison read March: Book One, a graphic novel by Congressman John Lewis, Andrew Aydin, and Nate Powell before sending it to her 11-year old nephew at summer camp and wondered what he would think of this glimpse into the Civil Rights Movement.
Tags: allison read, courage, diversity, leadership
My eight-year old nephew, William, is visiting me in Charlottesville this week. Last Thanksgiving he helped me to write this blog post, What William Knows. It included much of the wisdom his then seven-year old self had to offer the world. I feel sure that after nine days together, he and I will pen another post. Until then, I find myself thinking about my oldest nephew, 11-year old George.
George has also shown up on our blog in the past including this post from his visit to Charlottesville last summer, Sleep Hygiene Advice from a 10-Year Old. He's currently at my childhood summer spot, Eagle's Nest Camp, for a three-week session. Last month, I bought him the graphic novel, March: Book One, by Congressman John Lewis (GA-5), Andrew Aydn, and Nate Powell because I thought it would make a fun addition to one of my care packages. If you're not familiar with the graphic novel concept, this preview from the publisher, Top Shelf Productions, will give you a great view into this medium. If George enjoys Book One, I'll definitely be getting him Books Two and Three.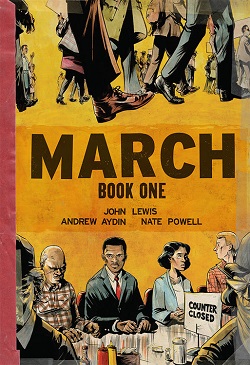 I've been giving my niece and nephews graphic novels for the last few years, and they've been a big hit. March: Book One is different in that it's about historical events rather than the fictional stories I've shared in the past. Congressman John Lewis starts March: Book One from the morning he woke up to attend President Barrack Obama's first inauguration. Then the novel flashes back to his childhood and tells his story as a caretaker of chickens on his family's sharecropping farm in Alabama in the 1940s. (He loved his chickens, preached to them, and protested when they made an appearance on the dinner table.)
The next 100+ pages go back and forth between his memories of Obama's inauguration day and stories from Lewis' experiences in the segregated south as an African American—traveling with his uncle as a child carefully planning gas and bathroom stops where they'd be safe, the first time he heard Dr. Martin Luther King, Jr. on the radio, his letters to and eventual introduction to Dr. King, the training he received in non-violent protest methods, his involvement in the Nashville lunch counter sit-ins, how he helped to start the Student Non-Violent Coordinating Committee (SNCC), and so much more. I found the story-telling to be accessible and the images empathetically connected me to this time in history in new ways.
I learned much of this history at the University of Virginia in Julian Bond's History of the Civil Rights course. His book, Gonna Sit at the Welcome Table, is still one of my favorites, and I blogged about it in honor of Dr. Martin Luther King, Jr.'s birthday in 2013. It's a wonderfully curated collection of speeches, stories, articles, comics, posters, charts, and other artifacts. Until George is ready for that book, I think March: Book One is a great way to continue his exploration of history. (He's already an avid history buff.)
My brother is a pastor, studied history in college, and we share a passion for social justice. He and I have had many heartbroken conversations since the killing of nine people at Emanuel African Methodist Episcopal Church in Charleston, S.C., on 17 June 2015. I'm certain he already has or in time will find a way to talk with his children about that tragic day and how painfully similar it is to the stories John Lewis tells in his graphic novels.
While we have made so much progress in this country, we also have so much more progress to make. I hope John Lewis' story helps my niece and nephews to think about how they can be a part of the solution. I look forward to getting a first review from the oldest, George, soon.