What We're Reading Now
"Dirty Barbie" and Other Lessons in Vulnerability
11 February 2014
Allison watched Denise Laughlin Stewart's 2013 TEDx Charlottesville Talk and started counting down the days until her next chance to see Dirty Barbie and Other Girlhood Tales the weekend of 21 February 2014 at Four County Players in Barboursville, VA.
Tags: allison read, allison watched, balance, change, denise stewart, ted
Last week I wrote about vulnerability expert, Brené Brown, and her world-famous TED Talks. This week I want to tell you about a vulnerability expert in my own backyard.
I first met Denise Laughlin Stewart (Deedee) through our mutual community theater friends at Live Arts. Then I learned about the wise wellness coaching Deedee was providing. (She helps individuals and companies build ritual and discipline for better health.) I heard from another friend that Deedee's work as a Weight Watchers coach helped her to rethink her relationship with food and finally figure out how to take care of herself. A few months later I attended some coaching meetings with Deedee and really liked how she talked about her approach to helping people meet their wellness and overall life goals. She was warm, real and made me laugh (some of my favorite qualities in a person).
Then I saw Deedee in her one-woman show, Dirty Barbie and Other Girlhood Tales. I laughed so hard I cried. I cried so hard I laughed. In addition to all the great things I had already learned about Deedee, I discovered she was an incredible playwright and actress. Dirty Barbie was not only a beautifully well-written play that received wonderful reviews around the world, it was also an opportunity to learn how Deedee came to her wellness work. (She did not always take care of herself as well as she does now.) In this play, Deedee showed the kind of vulnerability that Brené Brown says we need if we're going to lead, innovate, manage change, give up shame, and build happier relationships with one another.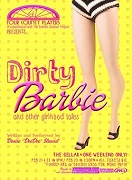 Last year Deedee auditioned in the TEDx Charlottesville Open Mic Night and was selected as one of our 2013 speakers. I had been inspired by Deedee many times before she spoke on 15 November 2013, but that afternoon I received another dose of goodness in just six minutes and 52 seconds. She taught me that, "What matters is that this old dream, and this tired language and these worries paired with your inaction are wrecking you every day. And your reduction of the frequency and duration of that wrecking ball is your work. And it is the ultimate self-employment."
You might be asking yourself, "What on earth does that quote mean, Allison?" If you're curious, treat yourself to Deedee's TEDx Talk. You'll learn what this quote is all about and get a dose of vulnerability inspiration that's sure to help you make a little progress on one of your old dreams. (She's helping me to make progress on one of mine.) You'll also learn why I'm excited about seeing Dirty Barbie and Other Girlhood Tales for the third time on 23 February 2013. There will be three shows that weekend at Four County Players. You don't want to miss the laughter, love, loss and musical return to the 80s that will lift you up so that you can find the energy to do the hard work that will help you to change in whatever way is right for you. This work afterall, is your ultimate self-employment.