What We're Reading Now
Choosing Balance and Leadership is More Difficult for LGBTQ+ Employees
28 August 2018
Allison read How Companies Make It Harder for Lesbian, Gay, and Bisexual Employees to Achieve Work-Life Balance on HBR.org and was grateful to the authors for compelling research and practical tips.
Tags: allison read, balance, diversity, greer dawson wilson
Teaching our Choosing Balance and Leadership course is one of my favorite things. Each time I help a group of individuals figure out what balance means for them and how to achieve it, I gain a greater empathy for how the word means something different to each one of us and requires an ever-changing set of sometimes exhausting choices.
Today, I'm grateful to our local Center for Nonprofit Excellence for including an article in their email newsletter from HBR.org contributors, Katina Sawyer and Christian Thoroughgood. In How Companies Make It Harder for Lesbian, Gay, and Bisexual Employees to Achieve Work-Life Balance, the authors remind us that the already tricky task of achieving balance is that much harder for lesbian, gay, and bisexual employees. I'll confess I paused and wondered why the authors didn't include transgender or queer employees in their sample set, but I'll say more about that later.
While interviewing a sample of 53 LGB employees, Sawyer and Thoroughgood learned that even in workplaces where the employees were open about their sexual orientation, the employees still often felt left out or anxious about the consequences when discussions of family and spouses took place.
Would it be okay to have pictures of their families included in the company mural? Can a same-sex partner attend the company picnic? Could they talk openly with a supervisor about challenges related to adoption? In other words, these LGB employees didn't feel safe talking about their lives outside of work. I was especially moved by this observation, "I don't think our organizations want to hurt us. They just don't know that we're here."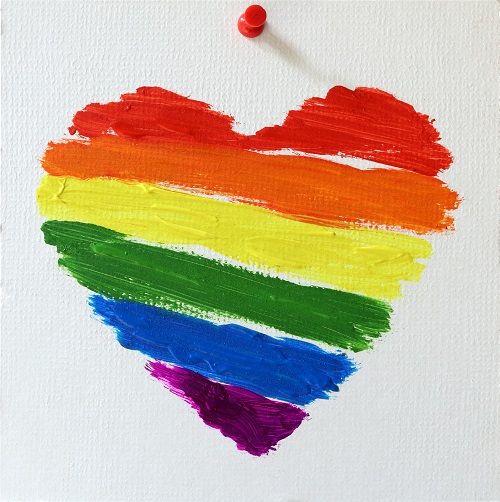 Encouraging diversity in the workplace is one thing, but I believe fostering a sense of inclusion requires something more. Reading this article will give you greater empathy for how it might feel not to be able to talk freely about your family and balance struggles. Fortunately, the authors also provide organizations with practical tips for what to do to make things more welcoming for all employees. I especially liked these recommendations:
"…ensuring that all assumptive language and imagery be removed in communications (for example, including pictures only of male and female partners in flyers promoting new work-family initiatives)
and extending invitations to all significant others when announcing family-related work events…
examining family benefits packages may also reveal blind spots in your organization's level of family inclusiveness."
My mentor, Dr. Greer Dawson Wilson, was well known for her work on diversity and specifically race relations. However, in the early 90s she was just as staunch an advocate of LGBTQ+ rights and inclusion. I will never ever forget the summer of 1993 at the University of Virginia when she told my 20-year old self that one of my summer assignments was to think about my sexual orientation and to share it with her at the end of the summer if I felt comfortable doing so.
I was dumbfounded. I remembering stuttering, "But Greer, I already know I'm…" and she quickly interrupted me with one of her looks and this question, "Did I ask you to tell me now? How do you know what you are and who you might love? Did you ever think about it before now or have you blindly accepted that which your society has told you?" Then I said, "But Greer, I thought it wasn't a choice." She shook her head and said, "It's not. But choosing to be your true self and understanding why that choice may not be easy for everyone is best done with some self-reflection. I'll ask you about it again before school starts."
Little did I know that Greer was putting me on a path to have more empathy for people who were not heterosexual, and cisgender like me. She was the first person I knew who hired openly gay employees and she helped me develop a curriculum for a short-course called Heterosexism and Homophobia. She modeled for me what would become a way of living… if you want to encourage diversity and inclusivity you have to get to know people who are different than you are and help make it safe for them to contribute and be themselves.
I'm not sure why the HBR.org authors didn't include transgender and queer people in their sample set. Perhaps it's because those are categories in the LGBTQ+ community that are less reported on or understood. (If you're curious about the + in this acronym, I think this post does a nice job of explaining.)
While I have trans and queer friends, I have fewer of them (that I know of), so I was grateful to the City of Charlottesville Human Rights Commission for teaching me more about the experiences of LGBTQ+ people during the Safe Space training I attended in 2015. In Charlottesville, that training is now provided by SafeCville, a coalition of five community partners. Even though I've been trying to be an ally for 25+ years, the most important thing Greer taught me was to continue learning about people who have different experiences than I do, so I'm constantly in search of new training and reading to help me do better.
I asked one of my queer friends what she thought of the HBR.org article and this post, and she recommended this article which was written by a queer woman and explores the challenge of balance and the privilege of authenticity at work. The author also delves into what one of my lesbian friends described as double consciousness. "You're always thinking 'am I safe?' and if it's not made explicit that you are, you're forced to guess and being on alert like that is exhausting."
Finally, I encourage anyone who wants to learn more about LGBTQ+ inclusivity to attend their local Pride events. Our Charlottesville Pride Week is Saturday, September 8 through Saturday, September 15, 2018. You can find the full calendar of events here. Allison Partners is delighted to be one of the presenting sponsors with Light House Studio of a special film screening of Weekend on Sunday, September 9 at 3:00pm. Please let me know if you'd like to join me that afternoon or at the Pride Festival on Saturday, September 15. These events are some of the most joyful ones I attend each year and help me on my own journey to be a good ally in all parts of my life.