What We're Reading Now
Practice Your Way to Optimism
26 June 2012
Allison read Jane Brody's A Richer Life by Seeing the Glass Half Full from the 5 May 2012 New York Times and was glad a friend sent the blog post her way (the Allison Partners team likes adding to our Happiness Matters resources list).
Tags: allison partners favorite, allison read, balance, happiness, optimism
Our Vice President at Allison Partners, Rachel Brozenske, has read just about everything she could get her hands on related to happiness, positive psychology, optimism, balance, mindfulness, and neuroplasticity. She's developed a course called Happiness Matters that summarizes the latest thinking, makes the connection between individual happiness and organizational performance, and gives participants practical tips for how to get happier.
Everyone on the Allison Partners team tends to see the world through rose-colored glasses (it's not a requirement, but it does make helping people with the messy people stuff a little easier to do). However, we like to keep the happiness muscles strong and we can get down in the dumps too so we're always on the lookout for new behaviors to practice. And it does take practice, because just because happiness matters doesn't mean it's always easy to achieve, and that's why I like this blog post.
Brody begins by sharing the Mayo Clinic's definition of optimism, "The belief that good things will happen to you and that negative events are temporary setbacks to be overcome." I appreciate how this definition acknowledges that bad stuff will happen and optimism is more about how you handle the bad stuff than about having an unfailingly sunny disposition. She goes on to acknowledge that at least some of our outlook might have a genetic influence. However, research also shows that if we're willing to take control of our thoughts, take specific actions that support an optimistic approach, and surround ourselves with people who nurture us and our commitment to being happy, then optimism is something we can learn. As Dr. Suzanne C. Segerstrom, a professor of psychology at the University of Kentucky, writes, one of the best ways to do that is to "Fake it until you make it."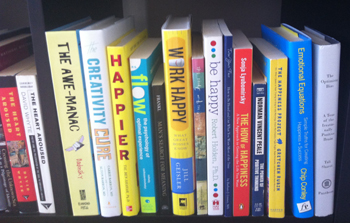 a glimpse of the happiness section of the Allison Partners bookshelf
Are you curious about what it takes to fake it until you make it to optimism? Brody includes several practical tips at the end of her post. I start every day with journaling, and I find that giving myself permission to vent in my 'morning pages' actually helps me let go of bad feelings. However, I also try to wrap up my writing with things that make me feel grateful. Now that I've read Brody's suggestions, I'm going to start writing down three positive things that happened each day before I go to bed to see how that makes me feel. What are you going to start doing to practice being an optimist?
p.s. You might enjoy some of these past What We're Reading Now blog posts on optimism and happiness related topics.