What We're Reading Now
Leadership Wisdom from the Baseball Diamond
8 November 2011
Allison read Built to Win: Inside Stories and Leadership Strategies from Baseball's Winningest GM and was happy to learn that the former General Manager of the Atlanta Braves, John Schuerholz, believes one of the secrets to his success was establishing clear, mutually understood expectations with every member of the organization. (It's nice when one of your heroes affirms a closely held belief.)
Tags: allison read, baseball, communication, culture, leadership, management and supervision
I enjoy watching all kinds of sporting events, but baseball is definitely my favorite. I love the Atlanta Braves, University of Virginia Cavaliers, and any little league teams my friends Jackson and Stuart are on. Now that the 2011 season has come to an end, I find myself at the beginning of my annual countdown until February when pitchers and catchers report to spring training and I decided the Schuerholz book might help me wait for baseball to return.
If you're a baseball fan, you'll definitely appreciate Schuerholz' candor and humor as he tells behind the scenes stories and lessons learned during the time he lead the team from worst to first in 1991 and then ushered in a historic era of 14 consecutive division titles. His writing style has a bit of a meandering quality to it, but that's what I expect from a sports yarn. You won't necessarily find any brand new leadership suggestions and I don't think this is the first or even fifth book to pick up if you're trying to learn how to be a leader, but you will get many tangible examples of why certain practices seems to be common among the best leaders. Schuerholz gives compelling, down-to-earth reasons for establishing expectations, setting short and long term goals, listening carefully, building up the self-esteem of individuals and organizations, giving constructive feedback, encouraging participation, recruiting for fit, trying to stay calm when the stakes are high, being a servant leader, admitting his mistakes, sticking to his convictions and more. Of all these practices, I think Schuerholz does the best job of explaining why it's essential to have mutually agreed upon expectations.
Whether it's through our Effective Communication Skills course or in one-on-one settings, we help many of our clients figure out how to deliver difficult feedback in a constructive manner. More often than not we find that when people are disappointed in someone else they very often bear some of the responsibility for the situation because they haven't been clear about what they expected in the first place. Employees, colleagues, friends and family members can't read our minds so it's incredibly important to say what we mean. (If you struggle with finding specific, descriptive language to explain what you want from someone, I think this resource will be helpful.) Long before you need to give anyone difficult feedback you probably need to back up and reestablish expectations.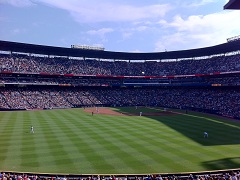 my view from my last visit to the "Home of the Braves"
The Atlanta Braves are known for having a healthy, productive team environment and the tone in the clubhouse is often described as even-keeled and supportive. Schuerholz believes one of the ways they created this culture was by having all sorts of specific requirements of players in terms of appearance (neat uniforms, no jewelry, conservatively trimmed facial hair, clean helmets, etc.). While they depend on the individual productivity of their players, they have found that by minimizing some of the things that star athletes do to draw attention themselves they are able to foster more of a team environment. In addition, they require community service, participation in fan events, and support of fellow team members no matter how you're playing. It took a lot more than these rules to have a historic 14-year run, but I think they are a good example of how the entire Braves organization communicates and upholds clear expectations. There have been many players over the years that people thought would never adjust to the Atlanta way and yet by being clear upfront and helping them make an informed choice about whether or not to join the Braves, Schuerholz was able to integrate a wide variety of personalities into his championship teams.
What hopes and expectations do you have for people in your life that you haven't explained? If you can't figure out how to describe them, give me a call and I'll help you learn how to say what you mean so that you can set yourself and others up for championship success too.