Leadership Development
While an organization is made of many members, leaders and managers play a central role in its sustained success. Allison Partners supports a variety of leadership and management development efforts throughout an organization's life cycle, from the moment an entrepreneur hires her first employee to the day an organization prepares for a merger or acquisition.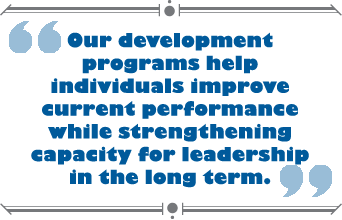 Allison Partners consultants recognize leadership as a multifaceted challenge. First, leaders and managers must be equipped to make sound decisions, solve increasing complex problems, and negotiate often conflicting interests. Second, leaders must inspire and direct an organization and its members, utilizing a distinct array of skills and practices. Whether teaching supervisory skills to potential future leaders or advising a seasoned executive about her leadership efficacy, Allison Partners team members design and conduct leadership development programs that help individuals enhance current performance while strengthening their capacity for leadership in the long term.
To read about some of the tools commonly used in Allison Partners leadership development projects, see assessment and feedback, professional coaching and speaking and training.