What We're Reading Now
We're Going to Be O.K.
7 July 2020
Allison read We're Going to Be O.K. by Dr. Ebony Jade Hilton and Dr. Leigh-Ann Webb with illustrations by Ashleigh Corrin Webb. It sure was comforting to be reminded there are practical things we can do to stay safe, healthy, and optimistic during the COVID-19 pandemic.
Tags: allison read, children's book, covid-19, diversity, health care, healthcare, mental health, picture books
My goodness it's a complicated time. Everyone has feelings and opinions about everything. I suppose everyone always did, but it sure seems like our arguments with each other and even within our own minds are more stressful than ever before. It's exhausting to try to figure out the right choices to make to keep ourselves and others healthy, and it often feels like the guidance about what's right changes every day.
My physician, hospital, scientist, and public health clients remind me that part of the reason for this feeling is that COVID-19 is a 'novel' virus. It's not like other viruses we've dealt with before, and what we know evolves as new research is conducted. This is one of the many reasons that back in March people said we didn't need to wear masks and now we're asking everyone who can to wear their masks whenever they leave the house. That's a big, uncomfortable change, and I understand why some of us have struggled to make the adjustment.
I've always loved picture books. Both Rachel and I collect them, write about them, and turn to them for wisdom and comfort. As I try to help myself and others get our heads and hearts around these difficult times, I suppose it's not surprising that I'd find a book written for kids ages 5-9 to be one of the most useful things I've read.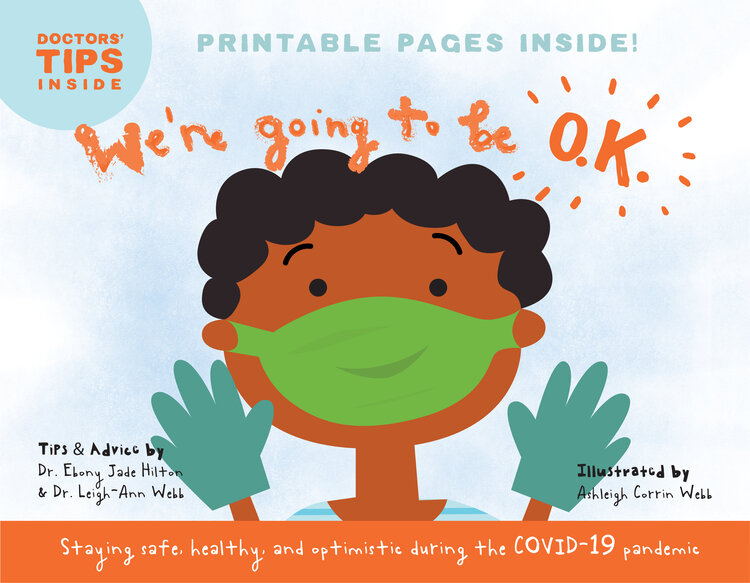 I'm grateful to our local physicians, Dr. Ebony Jade Hilton and Dr. Leigh-Ann Webb, for writing We're Going to Be O.K. Their tips and advice along with Ashleigh Corrin Webb's illustrations provide great suggestions on how to prevent the spread of the virus, keep our bodies as healthy as we can, and help ourselves and others with how hard it is to stay positive and feel good these days.
Through the generosity of a wonderful donor, the Jefferson School African American Heritage Center printed free copies in English and Spanish to be distributed in our community. The authors have also provided an easy to read and print digital copy here. You can even have the book read to you by Dr. Webb here! Whether you're supporting children in this time or a grown-up looking for advice and comfort, this book has something for everyone. I especially like the page where I can create an 'I Get To' list. For example, I can wear my Princess Leia Halloween Costume all day at home. That is for sure what I like to think of as a COVID-19 silver lining, and I bet the people on my next Zoom meeting will really be glad I did!