What We're Reading Now
Tell Me a Story
15 January 2013
In honor of Dr. Martin Luther King, Jr.'s birthday, Allison read some of her favorite excerpts from Gonna Sit at the Welcome Table by Julian Bond and Andrew Lewis and paused to celebrate the power of persuasive speech (as well as a beautifully curated history of the African American Civil Rights movement).
Tags: allison read, change, communication, diversity, martin luther king, new year's resolutions, uva
I took Julian Bond's History of the Civil Rights Movement course during my last semester as an undergraduate at the University of Virginia in 1995. I had focused a lot of my academic efforts on African American literature and history while I was a student so there was no way I could leave UVA without spending a semester with one of the founders of the Student Nonviolent Coordinating Committee (SNCC).
In addition to riveting lectures and great small group discussions, we also delved into Gonna Sit at the Welcome Table, an anthology of sorts by Bond and Andrew Lewis. Picture an 8 ½ by 11 by 2 inch book that's 824 pages long and you'll begin to get a sense of the breadth and depth of this collection of speeches, historical analyses, comics, hymns, letters, campaign posters, maps, graphs and more from the African American Civil Rights movement. The Table of Contents and selective chronology from 1900 to 1968 are even great reads and give you a sense of the movement and help you figure out where you want to start.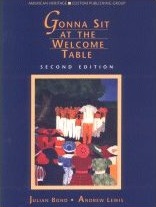 Maybe you're already familiar with Martin Luther King's Letter from Birmingham City Jail on April 16, 1993, but you might not have seen his Speech at Holt Street Baptist Church on December 5, 1955, just a few days after Mrs. Rosa Parks was arrested. Or perhaps you've heard of the President of the University of Richmond, Ed Ayers, but you never had a chance to read any of his work about the development of segregation in the United States. In Charlottesville we're proud that Ed is leading a great University just down the road from us, but we're quick to remind anyone who asks that he was a professor at UVA from 1980 until 2007. And finally, I imagine you might have a point of view about Malcolm X, but if you attended public school in the US prior to 1990 there's a good chance you haven't read or heard many of his speeches (and his work still isn't included in a lot of curricula today). The anthology ends with Malcolm X's address in 1964, Liberation by Any Means Necessary.
I'm writing about this book today for two reasons. First, it's a wonderful way to get a deeper understanding of the breadth and the depth of the civil rights movement. So many people celebrate the progress we've made on this issue in the United States, but perhaps didn't get a chance to take a class to learn more about its multifaceted history. I'm a lover of lifelong learning, but sometimes it's hard to know where to get started and what to include. This book was carefully designed by someone who was intimately involved in the movement and has committed his life to studying it and continuing to seek equality and justice for all. Thank you, Julian Bond (and Andrew Lewis who also wrote, The Shadows of Youth: The Remarkable Journey of the Civil Rights Generation).
Second, I often reference some of the speeches in this book when I'm looking for inspiration about how to tell a compelling story. I certainly don't think I'm doing anything that is of similar historical significance when I'm teaching our courses or trying to persuade a client about a particular course of action. But I do think that it's important to tell an inspiring story whether you're trying to change history or just trying to change an organization or even a relationship. You probably have some things you want to persuade yourself to change. (Lots of people are working on New Year's resolutions right now.) I also imagine you might like someone else to change or are part of an organization you wish would do something differently. (Who doesn't?)
If you do want to convince people to make difficult changes, then you need to tell a compelling story about why things need to be different and how much better life will be once the change is in place. I think it's okay (and even wise) to look for examples and inspiration from history's most significant storytellers when you're trying to make smaller changes in your own life. You know what I'm talking about when I mention "I Have a Dream," but when is the last time you actually had a chance to listen to this incredibly inspiring and persuasive story?