What We're Reading Now
Monkey Mind and Meditation
6 May 2014
Allison finished her three-week Dr. Deepak Chopra meditation experiment and found herself pondering (and hoping to cure) the monkey mind phenomenon.
Tags: allison read, balance, happiness, mindfulness, sleep, uva
On 15 April 2014, I wrote about Dr. Deepak Chopra's public meditation on the University of Virginia Lawn last fall. It was a wonderful experience that you can watch courtesy of the Contemplative Sciences Center. At the end of that blog post, I committed to doing Dr. Chopra's meditation every other day for three weeks and then sharing the results of my experiment.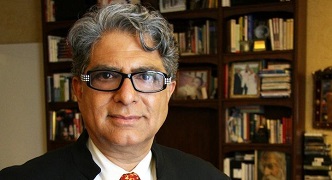 I'm happy to report I achieved my every other day goal. As a point of clarification, while my blog title was Can a 10-Minute Meditation Change Your Life Forever? the meditation is actually closer to 13 minutes. (From 13:46 to 26:48 on the YouTube clock to be precise.) There are all sorts of wonderful noises throughout the experience including a train, the sounds of U.Va. buses, and just as the meditation concludes, the Chapel bells toll. (That's especially meaningful for me since my parents were married in the U.Va. Chapel 42 years ago and my father still tells the story of how they fell in love like he used to read me fairy tales. Once upon a time...)
In addition to all of those "real" noises which somehow appeal to me and make me feel connected to reality while being contemplative, I certainly feel that Dr. Chopra delivered on his promise of a little bit of self-awareness, self-reflection through asking questions and not worrying about the answers, and transcendence. Here are just a few of his questions and prompts. Out of context, I'm not sure how powerful these are, but within the 13-minute experience they are quite moving:
Tell your mind, "Settle into the breath."
Experience love by thinking of someone that you love.
Experience compassion by thinking of someone who could use your help.
Experience equanimity, peace by going to the stillness deep beyond your mind.
Who am I?
What do I want?
What am I grateful for?
Repeat your name mentally: I am Allison Linney.
Rest in awareness.
Feel your heartbeat.
I found these questions helped me refocus when my attention wandered in the midst of the meditation and I've even found them popping into my head at other times during the day in comforting ways and especially when things get stressful. Once the meditation is over, Dr. Chopra explains why he prompted us in these ways and I think your rational mind will appreciate the explanation especially as this list is out of context of the overall meditation experience.
My experiment had an added bonus I hadn't anticipated. Shortly after I started, I had some wonderfully unexpected happy and exciting things happen in my life. It's all good stuff, but the emotions zinging around my body have made me more than a little distracted and I've even had trouble sleeping. I think it's safe to say I'm suffering from "monkey mind," which according to Wikipedia is, "'a Buddhist term meaning 'unsettled; restless; capricious; whimsical; fanciful; inconstant; confused; indecisive; uncontrollable.'" Sometimes monkey mind comes from happy things. Other times our sadness and anxiety trigger the zoo in our heads. Regardless, it's often the challenge that shows up when you're trying to practice mindfulness.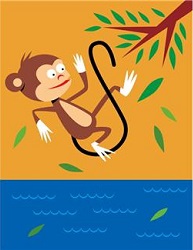 If you follow my posts regularly, you know that I often write about the importance of sleep. Normally, I do a good job of following my own sleep hygiene advice so finding myself having a hard time going to bed, waking up in the middle of the night, and being up long before I'd like to be, is entirely new territory and has left me more than a little discombobulated.
I've tried Dr. Chopra's meditation in the middle of the night and several times it's been quite helpful. However in the last few days, I've needed to return to my go-to breathing exercises, muscle relaxation and guided imagery programs described in this 2012 post. (The muscle relaxation and guided imagery exercises are the first ones Mama introduced me to in the late 80s so I suppose it makes sense that it feels like a safe place to return when all of my other tools aren't working as well.) What I've learned is that I love Dr. Chopra's meditation for the daytime when I want to press the reboot button and return to work refreshed, but I find the questions a bit too engaging for the middle of the night.
As I was wrapping up this post it occurred to me that I should see what Dr. Chopra has to say about monkey mind. I found this on his website from 10 September 2013. It sounds like I shouldn't be trying to tame my mind. Rather, I need to set it free through continued contemplative practices so I can realize this truth, "Embracing the wisdom of uncertainty not only frees you from the ego's illusion of control, it puts you right in the middle of the joyful flow of cosmic creativity." I like the sound of that. I like it very much.