What We're Reading Now
Listening Lessons from the Boston Marathon and Beyond
21 April 2015
Allison taught Resolving Conflict yesterday for the American Association for Physician Leadership and got to tell one of her favorite stories about how to listen even when you don't understand.
Tags: allison read, communication, conflict, health care, healthcare, listening, physician leaders
I was at the Venetian in Las Vegas yesterday teaching Resolving Conflict for the American Association for Physician Leadership Spring Institute. Whether I'm teaching conflict management or other communication skills, I always start my classes with an overview of how to be an effective listener. I believe it's the single most important thing we can do support strong relationship development which is the foundation for meaningful communication with others.
Yesterday also happened to be the 119th Boston Marathon. Every time I teach listening, I tell the story of my brother's experience running the 116th Boston Marathon which was also the third hottest Patriot's Day in the history of the race. His goal for that day was to run 2:42. That's right. I said two hours and 42 minutes! Sadly, instead of beating his PR that day, he had one of the most disappointing race days of his life when he crossed the finish line at 3:06:32. Wait. What?!?! You may be thinking, "How is 3:06 bad?" Read this post I wrote about his race and learn how to listen even when you don't understand.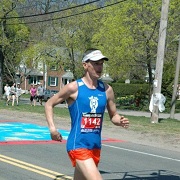 photo of Reverend George Linney by Jim Rhoades www.coolrunning.com
Last month I got to listen to my brother tell a happier running story. He competed in the USA Track & Field Masters Indoor Championships. He ran the mile in 4:45.35 and won that race. That's right. I said four minutes, 45 seconds and some change! He also achieved a PR that weekend in the 800 meters running 2:09.12 and came in second. I couldn't be there, but hearing the joy in his voice as he called me on the way home to share every detail and getting to watch him zip around the track in this video was the next best thing. (He's the one with orange shoes and yellow laces.) I may not ever understand what it means to move like George does, but I can still make him feel heard and you can do the same thing for people in your life if you quit worrying about whether or not you "get it" and just listen intently to their stories.