What We're Reading Now
"His Day is Done" (But Ours is Not)
10 December 2013
Allison watched and read His Day is Done – a tribute poem for Nelson Mandela by Dr. Maya Angelou and struggled to find some way to pay tribute to a hero.
Tags: allison read, allison watched, diversity, greer dawson wilson, leadership, maya angelou, poetry
I've been blogging every Tuesday for the last 18 months. (Three of the last 80 Tuesdays, Rachel blogged for me so that I could have a break, but 77 posts still feels like an accomplishment for someone who was pretty late to the social media party.)
At this point, I can hear my 10-year old nephew, George IV, telling me, "Allie, my teacher says that when you're writing a story about the lake you don't need to tell people how you got to the lake. If the story is about the lake, just start at the lake." I do my best to keep his advice in mind every week, but sometimes I struggle more than others. This is one of those weeks.
Since I heard the news, I've thought about what I could say about Nelson Mandela. I write about the topic of diversity often and he has been a hero of mine since I first started training as a diversity facilitator at the University of Virginia in 1992. The tributes to him have been wonderful since his death was announced five days ago on 5 December 2013. I've never been happier to be on Facebook and Twitter so that I could see the pictures, quotes, stories, and other posts from people around the world who have been moved to remember this great man.
When I pause to think about what I most admire about him, the words courage, patience, forgiveness, reconciliation, and warmth spring to mind. The thought of his 27 years in prison stops me in my tracks every time I try to imagine what that must have been like and how he came out the other side ready to do even more for all of us.
When I changed my Facebook Cover Photo to my favorite Mandela picture last week, I wrote, "His smile lit the way to a better place for all of us." I find it breathtaking that he smiled through it all and seemed to radiate warmth and reconciliation.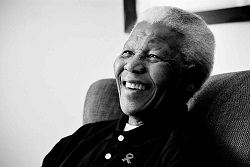 My mentor, Dr. Greer Dawson Wilson, made it possible for me to spend a day with Dr. Maya Angelou in 1994. Being in Dr. Angelou's presence was life changing for me so I suppose it's no surprise that her tribute poem for Nelson Mandela resonates so deeply. I hope you'll watch and then read His Day is Done. This line is the one that speaks to me most of all, "Yes, Mandela's day is done, yet we, his inheritors, will open the gates wider for reconciliation, and we will respond generously to the cries of Blacks and Whites, Asians, Hispanics, the poor who live piteously on the floor of our planet."
I'll be spending today and many of the days to come asking myself how I can open the gates wider for reconciliation and respond generously to the cries of people around the world. In my own small ways, I've tried to do this when I could, but today I am certain that I have not done nearly enough.