What We're Reading Now
Go Faster and Let Go Sooner
2 August 2016
Barbara watched two of her grandchildren do indoor rock climbing without a harness and gymnastic rings for two hours. They teach her many things and today was no exception.
Tags: barbara read, barbara watched, courage, mindfulness
Today I was initially alarmed as I watched my 12-year old grandson and 11-year old granddaughter scurry up an indoor rock climbing wall without harnesses. But then I realized they knew exactly how to climb up, climb down, and drop safely to the mat.
Once we got home, I asked my granddaughter, Kathryn, "What were you thinking about while you were climbing?" She replied, "I was just thinking about where to put my hands and put my feet and where the holes were to put my fingers." Then I asked her, "What were you thinking in between climbs?" She paused and seriously contemplated my question as she always does. "Well, it was just a normal day at a rock wall place," she said.
Kathryn's first Allison Partners blog post was about a meditation she learned. It's clear to me that she can teach me many lessons about mindfulness.
After about a half hour of climbing she spotted boys gymnastic rings and said, "I wish girls did the rings, too, because that would be my best event. They were too high for her to reach so she asked her brother to lift her up for her first try. I thought she was just going swing from them, but then she started flipping.
When I talked to her about it later, she said, "If I'd gone faster and let go sooner it would have been a back flip." It's clear to me that she has a plan for how to do exactly that the next time she gets her hands on those gymnastic rings.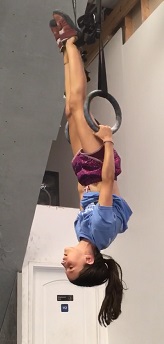 Once again, I learned some important lessons as I watched young, strong athletes that I am so grateful to know. You know how to do this. There is no need to be afraid. Don't think too far ahead. Don't think about anything other than what you are doing in the moment. Just think about the next place to put your hands and feet. Look for ways to improve. Then go faster and let go sooner.