What We're Reading Now
Get Better Results by Talking to Yourself Out Loud
11 July 2017
Allison read The Benefits of Talking to Yourself by Kristin Wong and learned that self-coaching can be improved if you talk to yourself out loud.
Tags: allison read, balance, coaching, mindfulness, self-talk
When I teach our Choosing Balance and Leadership course, I ask participants to begin noticing how they talk to themselves. Often the first thing they realize is that their inner dialogue is quite nasty and nagging. "I'm terrible at this," or "I know I'm scared of that so I'm going to panic and embarrass myself," or "I'm too fat," or I'm not smart enough," or "No one will ever want marry me," or "I'm a terrible parent and my kids will be screwed up because of this or that." You get the picture. We wouldn't talk to our worst enemy the way we sometimes talk to ourselves.
Then I ask my clients to begin changing their self-talk patterns. I encourage them to be supportive rather than negative, to ask themselves open-ended questions in an effort to explore possible solutions, and to cheer for small victories along the way. Now that I've read Kristin Wong's article, The Benefits of Talking to Yourself, I'll be adding a few new pieces of advice, all supported by fascinating research.
Talk to yourself out loud. That's right. As ridiculous as it may feel, you should say everything you're thinking out loud to get the best results from your self-talk. As I've been experimenting with this notion, I've noticed that I've got a lot of practice at talking to myself in my head, but out loud self-talk takes some serious effort. However, I've also noticed that it's worth the effort because it works. I've moved through many tasks I dislike faster this week by giving myself instructions and pep talks out loud.
Use the third person. Instead of saying, "I know I'll feel better if I work out tonight," I should try, "Allison, you know you'll feel better if you work out tonight. You can do this. Go upstairs and put on your favorite t-shirt and running shoes. Come on, now. Get up off this sofa and put one foot in front of the other. You can do it, Allison. I'm proud of you."
Name the item. If you can't find something in the house or in a pile on your desk, keep talking to yourself about the item by name. Don't say, "Where are they?" Rather you should say, "Now Allison, where did you put your keys last night? You were bringing in a lot of groceries, and it seems you didn't hang them in the normal spot so where did you put the keys, the keys, the keys? Where are your keys?" As silly as it may sound, researchers have learned that if you say the name of the object over and over you have a better chance of locating it.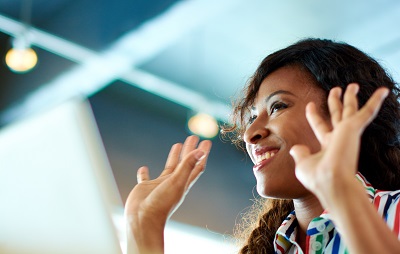 In addition to helping me with some tasks, I will also say that this much talking out loud felt ridiculous and made me tired in a way I don't quite understand. However, I so dislike the feelings of being unmotivated, disappointed in my productivity, or stumped by something difficult, that I'm willing to give it a try.