What We're Reading Now
Find Comfort and a Fresh Perspective in Poetry
19 March 2013
Allison read a draft of Border Ways by her brother, Reverend George Linney, and once again found just what she needed during a difficult time in the pages of a beautiful collection of poems.
Tags: allison read, balance, brene brown, courage, david whyte, grief, happiness, poetry
Last week my brother asked me if I would proof the collection of poems he's been working on for the last few years. I'd read some of them on his blog, At Water's Edge, but this was my first invitation to experience the poems in a certain order, curated if you will, in the form of a book called Border Ways.
Before I got my MBA, I was an English major, and have always fancied myself a creative liberal arts and business-minded consultant. I especially enjoyed my poetry classes at the University of Virginia and have often looked toward poetry for personal inspiration as well as a fresh perspective for my clients. In December, I blogged about David Whyte's book, The Heart Aroused: Poetry and the Preservation of the Soul in Corporate America, and tried to give my readers some insight on how to give up their fear of failure and find a little more faith in themselves. Poetry also helps me press the reboot button when I find myself discombobulated and unable to do the things that I know help me to find balance. With all those reasons in mind, plus my excitement about supporting my little brother, I looked forward to a weekend with his book.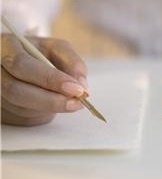 In between George's request and the time I'd planned to read his book, I found myself on the receiving end of some sad news and all around disappointment. It happens. There's no way to prevent it if you're out there taking chances, being vulnerable in the way Brené Brown encourages, and doing your best to live the life you want for yourself. I often support my clients as they navigate their personal and organizational letdowns so I've got a pretty decent set of tools to help me recover. Nonetheless, it's just one of those times when there's no way around the sad. I know I've got to feel it, deal with it, find a way through it rather than around it, and mostly just wait for some time to pass. Blah, blah, blah. (There's no better way to keep a coach honest than to give her a chance to follow her own advice on how to choose happiness and remember just how irritating that advice can be when she's feeling down.)
You get the picture. It's not one of the easiest times in my life and that's where my brother's book raced to the rescue. I had certainly planned (and hoped) to enjoy his poems while also providing him with constructive feedback and editing services. However, it was even more than I hoped for to find such a fresh way of thinking about things, motivational inspiration to do what I know I need to do, healing comfort in the beautiful balm of the images he created, a presentation of powerful possibilities for something good that might be waiting just around the corner for me, and courage for what lies ahead. Thanks, George. I guarantee you helped me more than I helped you. Your readers are in for a treat.