What We're Reading Now
Be Married by George Linney
7 March 2017
Allison read the Be Married web site and was excited to learn more about her brother's approach to strengthening relationships.
Tags: allison read, communication, listening, relationships, valentine's day
For many years, my brother, the Reverend George E. Linney, III, has been thinking about starting a business. I suppose entrepreneurship is in our blood. My maternal grandparents opened a store together in Port Royal, VA, in 1938. In addition to being a pediatrician and physician administrator, my father had several consulting and coaching ventures throughout his career. I started Allison Partners seventeen years ago, while I was in business school.
George's first foray into entrepreneurship was on May 22, 2010. He planted an innovative, ecumenical church in Durham, NC, called the Tobacco Trail Church. For seven years, he has been meeting with people at different mile markers on the Tobacco Trail. Members often run, walk, or ride their bikes to church. It's an approach to faith that has spoken to many people who want to explore religion in a new way.
In the last couple of years, George and I have wondered if there was an additional venture he could start that combined his work as a minister and his strengths as running coach. Last September, it finally came to us. He could focus his efforts on wedding officiating and relationship coaching. At Allison Partners, our professional coaching services are grounded in the approach my mother, Barbara Linney, developed in her 1982 Master's thesis so in many ways George is continuing our family tradition of supporting people. (Now that she works with us part-time, you can read Barbara's blog posts here.)
For the last five months, we've been exploring the possibilities of this market, honing his approach and services, and figuring out how to tell the story. The importance of staying married is one of our most important values at Allison Partners so several of our team members have enjoyed helping George develop his business plan. On Valentine's Day this year, George launched Be Married, and I'm so happy for him.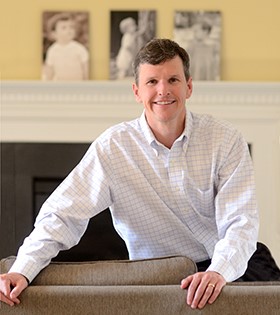 As you read through his site and enjoy the photographs, you'll notice that he brings a love of marriage to his work. George believes in the special commitment two people make to one another. He has no delusions about how hard it can sometimes be to stay married, but he also likes to help people find the fun and the growth in their journey together as a family.
Unlike some ministers who find weddings to be a bit taxing in the midst of all their other work, George adores helping people figure out how to have the right wedding for them and their loved ones. He helps couples to get to know themselves as individuals, think through their hopes for their lives together as a family, and navigate the joy (and sometimes the anxiety) of the wedding itself. George can support people from different faith traditions or no faith tradition. This statement from the officiating page on his web site sums it up, "If you are getting married next week, renewing vows, or eloping, I can help with those customized services as well. I work with couples from diverse social backgrounds, sexual orientations, and religious heritages. If you are committed to one another, then I am committed to helping you Be Married."
George also provides ongoing relationship coaching to support people in their efforts to keep getting a little more married every day. Some of his clients schedule periodic check-ins after their weddings so that George can take them through a series of questions to help them think about how things are going and set some goals for the future.
Recently, George has helped a couple think about how to blend their families together as they both have children from previous marriages. He's helped another couple begin to try to manage their sadness over not being able to conceive a child. One of my friends has been out of the dating scene for a long time since her divorce. She feels ready to try to build a relationship again and plans to talk with George about her hopes, fears, and the skills she feels she needs to begin dating.
I'm especially familiar with George's support of single people, as he's been a great coach to me. I'm 44 and have never been married even though I would like to be. There have been men who wanted to marry me that I didn't want to marry and men I wanted to marry who weren't interested in a life with me. If you ask my daddy why I'm not married, he simply answers, "He's not here yet." I really appreciate that answer, and it guides my own patience on this journey. However, along the way I've needed George's help so I have firsthand knowledge of how he listens, the kinds of powerful questions he knows to ask, and the insights he shares once I'm ready for advice. (I tell his lesson to me about how to listen and the Boston Marathon every time I teach our Effective Communication Skills course.)
George is good at meeting people right where they are and helping them be present to one another. He's also great at dealing with the unexpected. This story from George's testimonials page sums up his belief in "do overs," forgiveness, and going with the flow, "When our 5-year-old flower girl sped down the aisle dropping petals so quickly that people barely noticed her, George leaned down and whispered to her that she should do it one more time, a little bit slower – she did, and it was the hit of the night."
George and I have enjoyed a lifetime of laughing, awesome adventures, learning from each other, sometimes disagreeing and hurting each other's feelings, then forgiving, and mostly helping each other be who we want to be in the world. I hope you and others will give him an opportunity to help you Be Married.