What We're Reading Now
Sleep is Essential and Six Hours is Not Enough
12 June 2012
Allison read the cover of USA Today and learned about some troubling new research on the link between lack of sleep and stroke risk. Perhaps this is the data that will convince people they need more than six hours of sleep a night.
Tags: allison read, balance, happiness, sleep
I don't read USA Today that often, but I almost always skim it when a hotel gives me a complimentary copy. Yesterday's 11 June 2012 edition was especially timely since it had an article with new research about one of my favorite leadership topics, sleep. I'm teaching our Choosing Balance and Leadership course this afternoon so the article couldn't have been timelier.
The research on the importance of sleep for every facet of our lives abounds. I blogged about Harvard Medical School Professor, Charles A. Czeisler's classic article, "Sleep Deficit: The Performance Killer," last year. I include information on the importance of sleep as well as tips for better sleep hygiene every time I teach Choosing Balance and Leadership. In fact, I make a plug for sleep in almost all or our courses because it's next to impossible to do the kinds of things we teach people to do if you aren't well rested.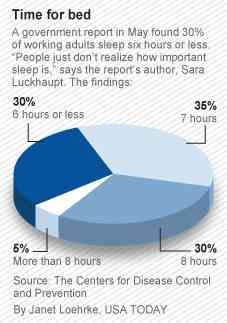 Many of the people I interact with want to believe they can get by on six hours of sleep. They consistently ignore the advice that almost all of us need seven to eight hours every night. With the help of this article that highlights Megan Ruiter's work, I now have another compelling argument to share in support of sleep. "The 30% of working adults who routinely sleep less than six hours a night are four times more likely to suffer a stroke." The study focused on people of normal weight who had no history of stroke. I'll be sharing this wakeup call with my class participants this afternoon. Perhaps now people will really start figuring out ways to get the sleep they need. If you want to get more sleep, but aren't quite sure how to begin, read last year's blog post for several suggestions on how to get the rest you need. Once you get back into a better sleep pattern and experience how much more productive and happy you are when you are rested, I think you'll do all you can to get the sleep you need in the future.