What We're Reading Now
Learning to Let Go (and Tweet)
18 September 2012
Allison read Chris Jones' article, All atwitter, from the 17 September issue of ESPN The Magazine and enjoyed a funny story about Atlanta Braves' third basemen, Chipper Jones, and his foray into the Twittersphere. This short read is jam packed with lessons about love of the game, letting go and even how to use Twitter.
Tags: allison read, balance, baseball, communication, happiness, social media
If you've spent more than a few minutes with me, follow me on Twitter, or "like" the Allison Partners Facebook Page, then you probably know I'm a lifelong fan of the Atlanta Braves. Last year I even blogged about former General Manager John Schuerholz's book, Built to Win: Inside Stories and Leadership Strategies from Baseball's Winningest GM.
I enjoy at least of few innings of almost every single game of the season, but the month of September is especially exciting as teams fight for a spot in the postseason. This year has been even more fun (and poignant) than usual because Chipper Jones is retiring. He's played for the Braves for his entire 19-year major league career. This kind of long term relationship between a player and his club just doesn't happen anymore in baseball. That fact plus Chipper's Hall of Fame worthy career means that sports fans from around the world are paying attention.
Chipper announced his retirement at the beginning of the 2012 season and there have been celebrations at every ballpark he's visited, a BobbleHead night in August, and interviews with hundreds of reporters. He's also had a truly great season batting around .300 all year. He even had a rare five-hit game on 3 July (this is all pretty amazing given that his 40-year old knees sometimes make things more than just a little difficult). In each interview, you learn more about why Chipper loves the game and why players, coaches, and fans love him.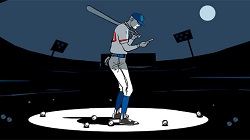 Everything had been going according to a traditional retirement plan and then something unexpected happened. On 24 July, Chipper "logged onto Twitter for the first time, @RealCJ10." ESPN The Magazine writer, Chris Jones, wrote a fantastic story about Chipper's foray into the Twittersphere and the hilarity and "letting go" that ensued. You may be thinking, "I'm not a sports fan, Allison. Why would I read this article?" Here are three good reasons:
It's funny (research abounds about how a little laughter in the day can help you restore your equilibrium);
It will remind you that once you've made a plan or set a goal, it's a good idea to just let go a little and allow something unexpected and possibly wonderful to happen next;
It might encourage you to finally find out what Twitter is all about. I've only been Tweeting since June 2011. I was very skeptical at first, but now I can promise you that it's well worth the time and allows you to make all sorts of professional and personal connections that may not have happened otherwise.
I have 14 more chances to watch Chipper play in the regular season. I plan to enjoy every one of them and sure do hope he'll get to play in one more postseason, too. What do you plan to enjoy in the next two weeks?
p.s. If I've convinced you to explore the wonderful world of Twitter, but you don't know what to do next, then read my blog post about how I learned to Tweet. I was at the Charlottesville Minority Business Conference today and was proud of my efforts to Tweet about all I learned using the hashtags #CMBC and #CMBCConference. A year ago I didn't know what a hashtag was and now Twitter has helped me to make new connections and build deeper relationships. This supports our approach at Allison Partners and that makes me very happy.
p.s.s. I'd like to dedicate this blog post to my Daddy, Dr. George Edward Linney, Jr. He's helped me to learn how to be a consultant and coach, but most importantly, he's taught me how to have balance and let go every single day. Whenever we talk, he wants to know what I liked about my work that day and what I'm going to do next for fun. He's also the original Chipper Jones fan so we got him a #10 jersey for Father's Day this year. Thanks for everything, Daddy, and especially for my love of the game!