What We're Reading Now
Get Your Ethics Goggles Here
3 October 2017
Allison watched Greg Brozenske's second ethics animation and was grateful for an easy to understand decision-making framework that can help her to slow down so she can draw on four ethical traditions.
Tags: allison read, allison watched, animation, courage, ethics, leadership
Earlier this year, the University of Virginia Darden School of Business asked one of our partners, Greg Brozenkse, to create an animation to set the stage for its first-year Ethics course and explain the four main traditions within ethical theory (principles, character, consequences, and care). Last month, he published a follow-up animation to explain how managers (or really anyone) can utilize a decision-making framework to draw on these four ethical traditions to frame issues in moral terms.
In the animation, Pam is a manager at HipTrips.com. Her team proposes a new product that would possibly be attractive to customers, but also make the company more money and get Pam a bigger bonus while potentially violating customer privacy.
There's nothing wrong with pursing profit and you better if you want to keep your job, but too often in these moments and when making other important decisions I bet you trust your gut. I know I can fall into the trap of thinking my gut is super reliable and misstep by "relying on intuition which can blind [me] to the possible negative consequences of [my] actions, increase the likelihood of mistakes, and prevent [me] from considering the situation from other perspectives."
As the 10-minute animation unfolds, you'll watch Pam view her problem through different "lenses." (I like her green goggles best!)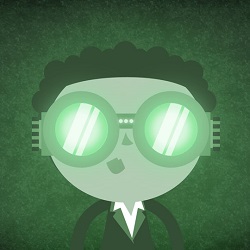 While it's important to consider all the ethical traditions, my favorite thing about using this framework is that it helps me to slow down. Now more than ever, I feel like the different communities I'm a part of and maybe even the whole world feels the need to analyze things quickly, place or accept blame fast, and take immediate action. There's a time and place for speed rather than deliberation, but even if I need to give feedback or decide fast, I find that there is almost always time to do this breathing exercise, take myself through the decision-making framework in Greg's animation, and answer the questions in this post.