What We're Reading Now
Why Does Black History Matter?
7 February 2017
Allison read her nephew's blog post about Hidden Figures and reflected on what five African American women had to say about the movie.
Tags: allison read, diversity, martin luther king
The moment I heard about the movie, Hidden Figures, based on a bestselling book by Margot Lee Shetterly, I started counting the days until it opened. Given my interest in Black history and all things diversity-related, I couldn't believe I didn't know this story about three Black women who helped, "America dominate aeronautics, space research, and computer technology" in 1961.
I invited two of my friends, seniors who happen to be Black, Enid Krieger and Marie Baker, to see the movie on Dr. Martin Luther King, Jr. Day. We laughed, cried, and exclaimed our way through the film as we watched three brilliant Black women navigate a segregated NASA and their lives outside of work. It was horrifying to watch the discrimination, but also encouraging to learn about the allies within NASA who advocated for these pioneers.
When it was over, Enid looked at me and said, "I watched the John Glynn Friendship 7 launch on TV, and never once was I told about these women who helped that man get into space." Marie said, "I knew John Glynn was progressive, but I had no idea he wouldn't go into space until a Black woman did the math by hand to confirm the IBM computer's calculation." I found myself wondering, "How would our American history have been different for people of all races if stories like these had been told, too?"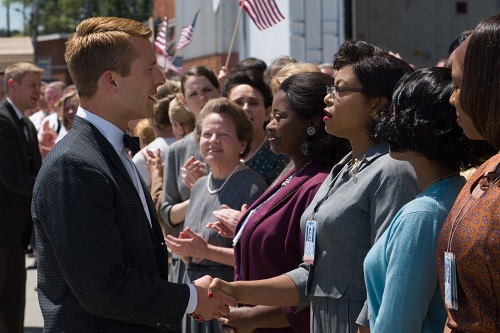 photo credit: 20th Century Fox
Ten days later I saw my friend and colleague Melissa Thomas-Hunt at a keynote address by Anita Hill. Melissa is African American, 49 years old, a professor and a Senior Associate Dean at the University of Virginia Darden School of Business, and the school's Global Chief Diversity Officer. She told me her undergraduate degree was in chemical engineering from Princeton and that, "It sure would have been helpful to me during my hardest moments as an engineering student to know the story of these woman at NASA. Diversity is in my job title and as an African American woman, I thought I knew a fair amount of Black history so I can't believe I didn't know this story! What other stories haven't I been told?"
This past weekend, I took my mother, Barbara Linney, and 13-year old nephew, George Linney IV. Our family is White and each of us in our own ways tries to own our "privilege" in this country (and the world). It makes me happy to watch my 70-something parents, my brother and his wife, my 9, 11, and 13-year old niece and nephews, and my 44-year old self grapple with the thorny issue of privilege and try to do what they can to advocate for diversity and inclusion. It looks different for each of us, but we sure are trying. Therefore, I wasn't surprised when my nephew wrote this blog post about Hidden Figures yesterday, but I was still deeply moved by his reaction to this time in our country's history.
Finally, when the movie was over, I turned to the two young African American girls who were sitting next to me and asked them for a reaction. Throughout the movie, they had asked me a few questions when they needed a little grown-up help understanding what was happening on the big screen. One of them said, "First, it made me sad in parts. Then it made me happy in parts, and now I'm curious about how to fly a rocket ship." Her friend said, "Yup. That's how I feel, too."
Some people wonder why we still need to set aside the month of February to celebrate Black History. I understand the question and agree we've made a lot of progress when it comes to ensuring our whole history is told. However, I still believe we have a long way to go when it comes to ensuring truth and inclusivity. Whether the stories inspire you, comfort you, help you believe that people who look like you can do great things, educate you about past atrocities, or help you consider addressing today's inequities, I'm grateful for those among us who are committed to shining a light in the dark corners of our past and present.