What We're Reading Now
TKI is Still My Favorite Conflict Resolution Tool
10 May 2022
Allison started teaching her Resolving Conflict course in-person again and confirmed that the Thomas Kilmann conflict mode Instrument (TKI® Assessment) is still her favorite tool for helping people make better choices in the face of conflict.
Tags: allison read, communication, conflict
My mother, Barbara Linney, was the Vice President of the American Association for Physician Leadership for 22 years. Four years before she retired in 2012, her boss, Dr. Barry Silbaugh, asked her who could teach her courses if she was not available or decided to retire. He had to ask three times before my mother said, "Well, the only person I know to recommend is my daughter, Allison Linney, but it feels like that might be some kind of nepotism."
Barry thanked her for the recommendation and reassured her that others in the organization would work with me to assess my capability and determine if I was qualified to join the AAPL faculty. This was in 2009 and I was interviewed by several of her colleagues. Then, they asked me to design a Resolving Conflict course that I taught for the first time at AAPL's Winter Institute in 2009.
As I began my design, I remembered that I had taken the Thomas Kilmann conflict mode Instrument (TKI® assessment) in 1998 as a new consultant at Andersen Consulting (now Accenture). It had a powerful and positive impact on my ability to approach conflict more effectively then and 24 years later it is still the tool I use to help people understand their own preference for handling conflict so that they can either rely on their preference or choose another way to handle the situation that might not be their preference.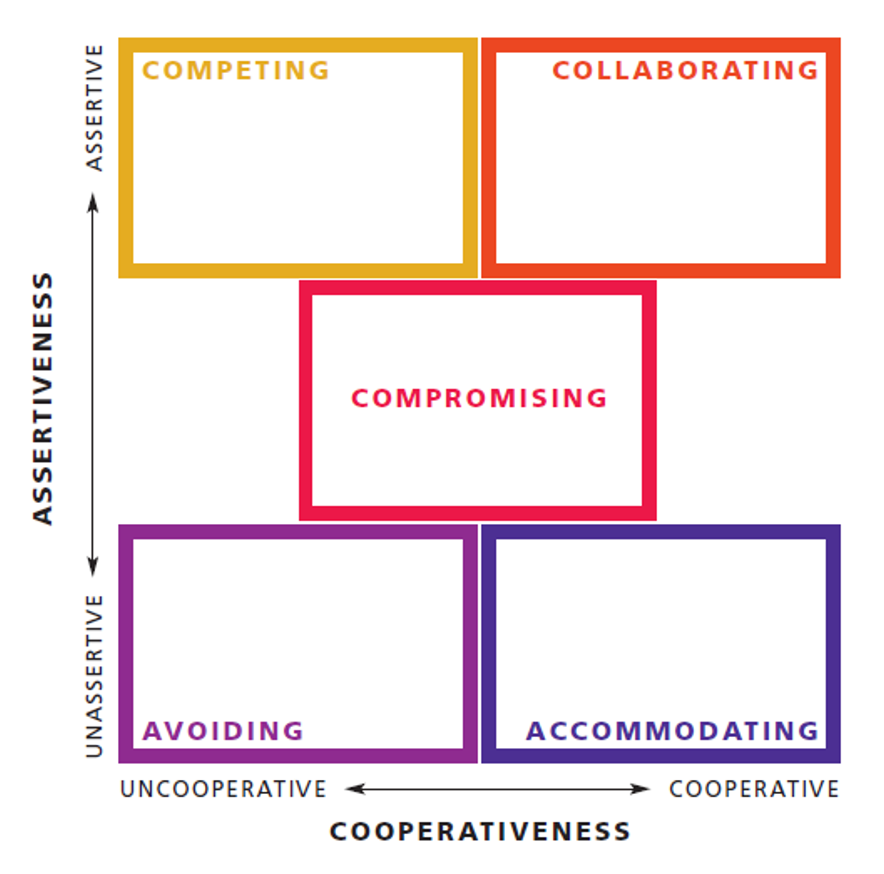 It takes an enormous amount of self-awareness and discipline to choose to use one of the TKI modes that is not in your comfort zone. For example, I score a zero in Avoiding because I have a preference for assertively addressing conflict head on. This has helped me to be an effective communicator in many ways. However, I became even more effective when I learned to leave some situations unresolved or let others handle the conflict instead of me. TKI helped me to have the self-awareness to build quiet patience as an option for addressing conflict.
In fact, I've become so good at waiting to have a difficult conversation until the time is right that I've realized this week that it is time to stop putting off a conversation that scares me. There were many good reasons to wait to have this conversation, and I'm glad I've given myself and the other person space to sort through some things on our own. However, now it's time to find the courage to use the Competing mode to state my needs so that hopefully the other person and I can transition to the Collaborating mode and come up with a good solution for both of us.
As I returned to teaching this course in-person at Arkansas Children's Hospital last week and prepare to teach at the first American Association for Physician Leadership Spring Institute since before COVID-19 next week, I've confirmed that I am still a huge proponent of the TKI insights. I hope when I see my participants next week that I can share that I was able to stop avoiding a conversation and move into a new kind of dialogue about a topic with a person that is very important to me.
You can read my first blog post explaining TKI here and the one I wrote in 2015 to celebrate TKI's 40th anniversary here. Also, I'm happy to report that after all these years, Dr. Ralph Kilman, is still contributing meaningfully to the field! I follow him on Twitter and get useful, free insights from him every week. Also, this image from a TKI sample report below and graphic may help you better understand TKI.