What We're Reading Now
Leverage the TKI Conflict-Handling Modes
9 October 2012
Allison read the Thomas-Kilmann Conflict Mode Instrument and Introduction to Conflict Management booklets and celebrated this straightforward approach to transforming conflict.
Tags: allison read, change, communication, conflict, culture, health care, healthcare, leadership, physician leaders
Tomorrow I'm teaching our Transforming Conflict, Restoring Productivity course at a hospital in Pennsylvania. I spend a lot of my time providing executive education to doctors as a faculty member for the American College of Physician Executives. I'm always impressed by the commitment these physicians make to both providing outstanding care and developing their leadership skills. As you might imagine, things are more than just a little complicated in the healthcare industry these days. Complexity and rapid change often lead to increased conflict and I think that might be part of why I find myself teaching this course more than usual.
You can't manage conflict if you aren't practicing the communication fundamentals of effective listening, setting expectations, delivering positive and negative feedback, and creating a culture that is conducive to feedback. However, even if you're mostly utilizing those good communication skills, humans have a way of finding themselves in the middle of conflict and it can be very helpful to have a tool that helps you to navigate more difficult situations.
The Thomas-Kilmann Instrument (TKI) was developed in the early 1970s by Kenneth W. Thomas and Ralph H. Kilmann. "It is a self-report questionnaire designed to measure your tendencies in dealing with interpersonal conflict." Unlike many instruments of this nature on the market, it's available to anyone and doesn't require a certified practitioner. I still think it's a good idea to have an instructor help you understand and apply the concepts (no big surprise), but if you're willing to invest time in reading about and practicing the TKI concepts, this tool is straightforward enough that you can make a lot of progress independently.
TKI defines conflict as "any situation in which your concerns or desires differ from those of another person." After answering just 30 questions, you'll learn about your preference for handling conflict across two basic dimensions, Assertiveness and Cooperativeness.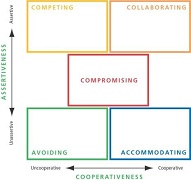 The five conflict-handling modes are Competing, Accommodating, Avoiding, Collaborating, and Compromising. The TKI helps people to understand that they usually have one or two modes they prefer and one or two they tend to avoid. It's acceptable and you are even encouraged to utilize your preferences in many situations. However, the TKI can help you to see that you have more choices than you realize when it comes to managing conflict if you're open to the possibility that all five of the modes can serve you well when you're mindful about what the situation requires. The TKI can also help you to learn that your favorite modes can get you into some trouble if you over-utilize them.
For example, when I first took the TKI in 1994, I scored highest on Collaborating and zero on Avoiding. Before I took the class, I would have told you it's generally always a good idea to collaborate and never a good idea to avoid conflict. However, the class helped me to see that taking a collaborative approach can have some negative consequences including:
Too much time on trivial matters;
Diffused responsibility;
People who take advantage of your willingness to collaborate;
Work overload (you take on too many causes and get behind on more important tasks).
I also learned some good reasons to avoid conflict:
Leaving unimportant issues alone;
Reducing tensions;
Buying time;
Knowing your limitations;
Allowing others ownership;
Recognizing issues as symptoms of bigger problems.
It takes a lot of self-awareness and practice to use the right mode or modes constructively (when you avoid according to TKI guidelines you don't stomp off in a huff). However, I find that if I exert the energy it takes to approach conflict using TKI insights, I'm often able to facilitate a better outcome for myself and others.