What We're Reading Now
Be a Courageous Leader
31 August 2021
Janie heard Faye Giles present to Charlottesville SHRM about the importance of Courageous HR Leadership and found herself feeling inspired to be more courageous.
Tags: courage, human resources, janie read
It happens to all of us. You're in a meeting and someone says or does something and you think, "Someone should say something." Then you realize, "Oh shoot; it should be me." In these situations, have you ever talked yourself out of speaking up because it was too hard, or because you convinced yourself that no one else noticed? I know I have.
Earlier this month I attended a Charlottesville SHRM meeting with speaker Faye Giles about this very subject. I've had the pleasure of knowing Faye for many years. She was one of my teachers when I participated in the study group for my SHRM-CP certification and her encouragement is one of the reasons I decided to get more involved in volunteer leadership, so I was excited to learn from her.
We discussed the importance of being a courageous HR leader, even (and especially) when it might not be welcomed, appreciated, or supported. HR professionals often find themselves in sticky situations. People look to HR to be the voice that speaks up when no one else will, so when we talk ourselves out of saying something because we think it won't be noticed, or we convince ourselves it wasn't a big deal, we are missing an important opportunity to be courageous. (I also think that if you're trying to convince yourself that no one else noticed, or that they'll understand your decision not to say anything because it's too hard or uncomfortable, you're wrong.)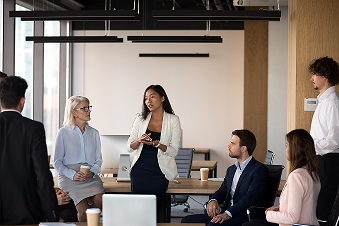 Faye shared numerous examples of ways to be a more courageous HR leader. I've listed a few that resonated with me below.
Having difficult conversations that others might not be willing to have
Providing candid feedback with compassion (at Allison Partners, we call this being "thoughtfully candid")
Owning up to your mistakes and not blaming others
Explaining a different point-of-view than your boss / peers / direct reports
In many ways, HR professionals are responsible for the organization's culture, and this makes it even more important for us to speak up and share difficult feedback when necessary. Being courageous is not easy; there will always be barriers standing in the way that could be used as an excuse to not say something, but that's why it's so important to persevere. Our credibility is built one interaction at a time and that's why we must be consistent and keep at it. Every time we choose to say something (or not to say something) people notice.
While Faye's session focused on courageous HR leadership, I think the information shared is universally applicable. Courage matters in other contexts, too – at work, in the community, and at home. The next time I find myself debating whether or not to have a difficult conversation, or whether it's worth it to provide feedback, I will remember Faye's words and I know it will help me push through the discomfort and proceed. I also know that the more I push through the discomfort, the easier it will become. How do you find your courage?