What We're Reading Now
Staying Outside the Comfort Zone
30 January 2018
Janie read If You're Not Outside Your Comfort Zone, You Won't Learn Anything by Andy Molinsky, and was pleased to see that his advice aligns well with strategies she's been using recently.
Tags: courage, janie read
Like most people, I have a comfort zone, and sometimes it can be difficult to push myself to try new things outside of that comfort zone. In If You're Not Outside Your Comfort Zone, You Won't Learn Anything, Andy Molinsky talks about the importance of facing situations that you might find uncomfortable. Molinsky shares… "these tasks aren't just unpleasant; they're also necessary. As we learn and grown in our jobs and in our careers, we're constantly faced with situations where we need to adapt our behavior…without the skill and courage to take the leap, we can miss out on important opportunities for advancement." Molinsky also shares some advice for finding the courage to try things out of our comfort zone. He says there are three steps you need to take.
Be honest with yourself.
Make the behavior your own.
Take the plunge.
While these steps sound basic, I found myself nodding in agreement with Molinsky's recommendations. I think it's very easy to make excuses to convince yourself of something you want to be true. Molinsky says, "If someone else offered you those same excuses about their behavior, would you see these as excuses or legitimate reasons to decline?" I have found that if I talk to myself as I would talk to a friend, I am more honest, and I am more willing to push myself.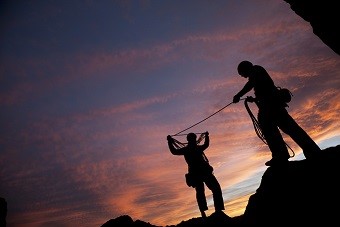 For example, last fall I challenged myself to join our local C'ville SHRM study group, and work towards earning my SHRM-CP certification. It has been a very long time since I studied for a big test or participated in any kind of study group. I was nervous, but I told myself to do it anyway. I participated during our study group sessions (even though sometimes it felt scary to speak up). I made the experience my own. Just shy of two weeks ago, I sat for the test and earned my SHRM-CP certification. If I hadn't pushed myself, I never would have done this. Molinsky says that "In order to step outside your comfort zone, you have to do it, even if it's uncomfortable." If you can force yourself to take the leap, you might find it's not as scary as you initially thought. I've certainly found this to be true. What ways have you pushed yourself outside of your comfort zone?