Assessment and Feedback
Without clear expectations and an accurate picture of reality, it's nearly impossible for individuals or organizations to change. Hiring managers need assessments to select candidates. Employees need feedback to improve their performance. Leaders need insight to increase their efficacy. Teams need understanding to collaborate successfully. Allison Partners provides clients with a variety of tools to support effective assessment and feedback efforts that maximize awareness, learning and development.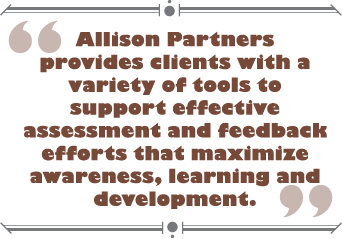 Whether assessing candidates as part of a hiring process, designing feedback mechanisms to support executive development or creating systems for effective performance reviews, Allison Partners consultants provide expertise in instrument design and selection, working with clients to choose from existing tools or develop proprietary systems. In addition, Allison Partners works with clients to ensure that tools and systems are complemented by the skills and knowledge to use them effectively and appropriately.
See the resources section for more information about some of the assessment tools that Allison Partners uses most frequently.