What We're Reading Now
Women Need Fewer Mentors and More Sponsors
12 March 2019
Allison read Sponsoring Women in the #MeToo Era by Lisa Cannell with insights from Martin Davidson and was grateful for a summary of compelling research and practical tips for how we can all address the inequality women face in the workplace.
Tags: allison read, diversity, mentoring, uva, women and leadership
When it comes to issues of diversity and inclusion, or as he calls it, "leveraging difference," Dr. Martin Davidson at the University of Virginia's Darden School of Business is one of my go-to experts. His article, Rethinking Political Correctness, his book, The End of Diversity As We Know It, and his website are the first resources I give to leaders who want to grow their capability in this area.
As Women's History Month gets underway and after enjoying the different ways people celebrated International Women's Day on social media last Friday 8 March, I found myself reflecting on some of the best wisdom I've seen recently on the topic of women and leadership.
Sponsoring Women in the #MeToo Era was written by Lisa Cannell, with insights from Martin Davidson. It builds on an assertion from the Harvard Business Review article Why Men Have More Help Getting to the C-Suite—"women tend to be over-mentored and under-sponsored." A mentor supports your career development in many important ways, but a sponsor proactively advocates on a protégé's behalf, ensures you're not overlooked, and takes personal responsibility for ensuring you have access to the different opportunities that add up to career advancement.
Historically, sponsorship has been more common among groups of professional men where in addition to workplace activities, there were more golf outings, drinks after the meeting, etc. Spending time with people who are like you and enjoy the same things you do is a natural human tendency, but Cannell and others argue that all of us and especially men will need to overcome this inclination to make sure they provide the benefits of sponsorship to women, too.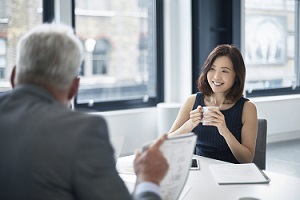 Sponsoring people who are different than you may require some intention and extra effort. As our world grapples with the revelations of the #MeToo movement, some men may be struggling with how to respond appropriately. It could feel safer to always have the door open or move all meetings to glassed-in conference rooms, but that could have some unintended consequences.
Catalyst, a global nonprofit focused on these issues, publsihed a Sexual Harassment in the Workplace report and "states that 'strict rules such as outlawing all closed-door meetings or physical touch of any kind might unintentionally serve to stop inclusive human interactions. That, in turn, could lead to employees feeling less of a sense of belongingness on their work teams or receiving fewer opportunities for mentorship and sponsorship, particularly for women.'"
Cannell includes links tp a variety of articles and research on this topic and finishes the article with a list of practical tips from Davidson for sponsors and protégés. (It's a two-way street!) Please read the suggestions and let me know what you think.