What We're Reading Now
Thinking Big Thoughts
7 July 2015
After her first day of thinking big thoughts in the Berkshires, Allison read some of her favorite Mary Oliver poems and discovered a wonderful interview with the poet online.
Tags: allison read, balance, canyon ranch, leadership, mary oliver, poetry, strategy
Rachel and I are on our fourth annual leadership retreat at Canyon Ranch in Lenox, MA. The Berkshires are the perfect place for us to "think big thoughts" about Allison Partners. (That's our shorthand for strategy articulation.) We're really proud of the growth we've had as a company since we started this tradition, and once again we're enjoying making time to relax, talking about lessons learned from the last year, and setting goals for the coming year.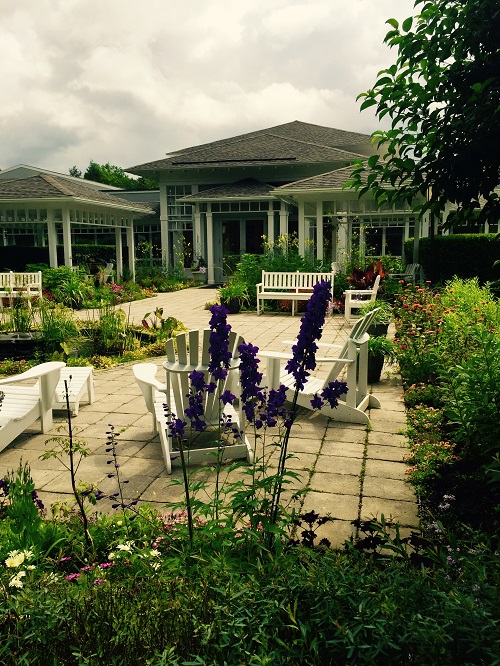 today's blogging spot
As my eyes rest on the beautiful gardens, evergreens, mountains, and stone pathways, I find myself thinking about Mary Oliver's poetry. Her poem, The Journey, has shown up in two past blog posts, and today I'm especially enjoying reciting Wild Geese in my mind as I wander along. (Rachel and I spend most of our time together, but we also go off on our own to think quiet thoughts.)
Wild Geese
by Mary Oliver
You do no have to be good.
You do not have to walk on your knees
for a hundred miles through the desert, repenting.
You only have to let the soft animal of your body
love what it loves.
Tell me about despair, yours, and I will tell you mine.
Meanwhile the world goes on.
Meanwhile the sun and the clear pebbles of the rain
are moving across the landscapes,
over the prairies and the deep trees,
the mountains and the rivers.
Meanwhile the wild geese, high in the clean blue air,
are heading home again.
Whoever you are, no matter how lonely,
the world offers itself to your imagination,
calls to you like the wild geese harsh and exciting—
over and over announcing your place
in the family of things.
Mary Oliver's newest collection of poems, Blue Horses, is waiting for me at home. (Sometimes I save books for a while.) Oliver rarely grants interviews so this one with Krista Tippett is a treat. You'll also find recordings of Oliver reading five of her poems on the same site.
As I think about my "place in the family of things," I'm especially grateful for my place on the Allison Partners team. The business I dreamed of building fifteen years ago this summer wouldn't be possible without these wonderful team members and our trusted partners. Thanks to all of you.