What We're Reading Now
The Power of Saying No
16 April 2013
Allison read one of her favorite Mary Oliver poems, The Journey, and remembered how important it is to sometimes say, "No."
Tags: allison read, balance, courage, david whyte, strategy
When I find myself discombobulated and overwhelmed, I often turn to one of my favorite poems. I wrote about the power of poetry in a blog post just last month so it's interesting to me to find myself returning to poetry in our blog so soon, but here I am again… looking to a poem to find a bit of meaning, inspiration and possibly clarity.
Mary Oliver is a winner of the Pulitzer Prize for Poetry and her collection, New and Selected Poems, is always on my coffee table. I first learned about Oliver's work from another favorite poet, David Whyte. There are many reasons I love her work, but Stephen Dobyns from the New York Times Book Review summed it best on the back of Oliver's book, "…These poems sustain us rather than divert us. Although few poets have fewer human beings in their poems than Mary Oliver, it is ironic that few poets also go so far to help us forward." That's what Oliver does for me. She always helps me forward.
I'd be hard pressed to pick my favorite Oliver poem, but The Journey is certainly a contender. (I like this two minutes and 39 seconds YouTube video of the poem created by Glenda Mills for a literature honors project.) As I read it again this morning, the opening lines made me think about one of my strategy professors at the University of Virginia Darden School of Business, L. J. Bourgeois III.
One day you finally knew
what you had to do, and began,
though the voices around you
kept shouting
their bad advice--
though the whole house
began to tremble
and you felt the old tug
at your ankles.
"Mend my life!"
each voice cried…
Professor Bourgeois often said, "Good strategy is all about saying 'no.'" So many strategic plans claim that the organization will do everything under the sun and be all things to all people. Professor Bourgeois encouraged us to ponder, "What aren't you going to do?" in an effort to narrow the focus, harness the energy of the organization, and raise the probability of success. He warned that the temptation to say "yes" to everything would often be great (kind of like the voices that keep shouting their bad advice and begging you to mend their lives in Oliver's opening lines).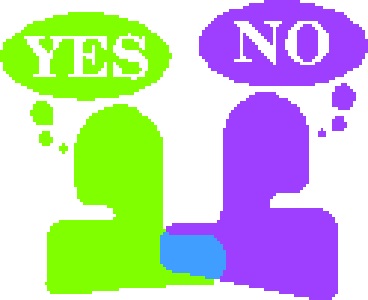 Not surprisingly, I often use this insight to help my clients when we're working on strategy articulation efforts for their organizations. However, I use the same insight to help individual clients who are trying to make choices that will help them to feel more balanced and satisfied about their lives. When I ask a client, "What or who do you need to say 'no' to?" they almost always have a quick answer that leads them to an important choice they need to reexamine.
As I find myself a bit overwhelmed by everything that's on my plate these days, I'm pausing to ask myself what and who I need to say, "no" to. I can tell you that I don't exactly like the answers I'm getting back from myself, but that's usually a clue that I'm asking the right question. Saying, "no" can be very hard to do, but at the end of her poem Oliver reminds me that in the aftermath of a, "no," my own voice will often return to guide me toward the right next step.
…as you left their voices behind,
the stars began to burn
through the sheets of clouds,
and there was a new voice
which you slowly
recognized as your own…