What We're Reading Now
The Chamber Minority Business Conference is for ALL Business People
13 August 2013
Allison read the Chamber Minority Business Conference Website and started to get excited for 17 September 2013. She thinks all business people could benefit from this great day of programming and knows they would be warmly welcomed.
Tags: allison read, diversity
Last year I enjoyed working with other Charlottesville Regional Chamber of Commerce members as well as members of the Charlottesville Dialogue on Race to establish the Chamber Minority Business Council (CMBC). You can learn more about how we got started here.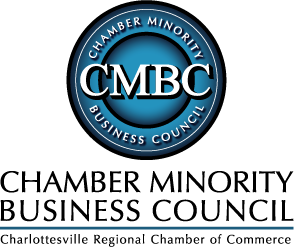 If you check out the CMBC web site, you'll learn that "The purpose of the CMBC is to grow and support minority businesses by facilitating the startup of new businesses and the successful running of existing businesses. The CMBC goals are to substantially increase the creation of new businesses and improve their success rate in Charlottesville and surrounding areas; to serve existing businesses by enhancing their viability through increased exposure and visibility; and, to create an incubational environment where ideas, strategies, and talents are exchanged among members."
If you scroll down to the bottom of the page, you'll see that " A Minority Business Enterprise is a business that is at least 51% owned by one or more minority individuals who are United States citizens or legal resident aliens, or in the case of a corporation, partnership, or limited liability company or other entity, at least 51% of the equity ownership interest in the corporation, partnership or limited liability company or other entity is owned by one or more minority individuals." We use the definition from the Department of Minority Business Enterprise, Code of the Commonwealth of Virginia — 2007 and include African American, Asian American, Hispanic American, and Native Americans in the definition.
Now if you've had a chance to talk with me about my racial identity or if you've just seen pictures of me, then you may be wondering, "How is she a member of the CMBC?" I am Caucasian and I think it's likely that many people who see my picture might guess that I'm white. Therefore, if you're curious about my involvement, I can certainly understand why.
I have a long history of working on diversity issues and facilitating conversations about difference. It's often the topic of my blog posts. The CMBC allows me to work on my personal goal of increasing diversity and inclusiveness for all members of my community because the CMBC is open to all Chamber members who support the advancement of minority businesses. (Only minority business enterprises can join the Chamber through the CMBC discounted rate, but any member of the Chamber can be a member of the CMBC.)
I don't think you have to be a member of a minority group to support the advancement of minority businesses. In fact, I'm hoping for a world where all people would want to support this effort. Minority businesses have historically been discriminated against and some still are today. Certainly, the advancement of minority businesses is good for those enterprises, but it's also good for all different kinds of people to learn to work together more effectively. As more and different kinds of businesses thrive in our community, our economic vitality grows and more individuals and families can thrive which is good for all of us.
This brings me to my excitement about our 2nd Annual Chamber Minority Business Conference on 17 September 2013. (In the spirit of full disclosure, I'm also the Sponsorship Chair for the conference so telling our story is especially important to me.) If you take a look at the agenda for the day, I think you might agree that it is jam packed with programming that would appeal to all business people. While you'll find the room filled with mostly minority business owners or employees and some of the messages may speak to the unique challenges they face, I think you'll appreciate the overall applicability of the topics for all business people.
Additionally, if you're looking to diversify your network or bring your services to new markets, attending the conference would be a great way to meet new people. And everyone I've told about the conference is excited about our keynote speaker, Daphne Maxwell Reid, best known for her role as "Aunt Vivian" on The Fresh Prince of Bel-Air. Mrs. Reid's 35-year acting career is still vital, with roles on many new television programs. With her husband, actor/writer/producer, Tim Reid, Mrs. Reid co-founded and is the principal partner in New Millennium Studios, the first full-service film studio in Virginia.
The spirit of our conference is one of education and inclusiveness. Would you like to be my guest? And if you are interested in being a sponsor, exhibitor or placing an advertisement in the program, please let me know. (I hope you'll forgive my plug and chalk it up to community service and a cause I believe in!)