What We're Reading Now
Take a Hike
22 July 2014
Allison read Proof That Hiking Makes You Happier and Healthier on The Huffington Post's The Third Metric blog and was glad to see a lot of research supporting something she's always suspected—taking a hike is a mighty good thing.
Tags: allison read, balance, creativity, happiness, mindfulness
It doesn't take much to convince me to go on a hike in the mountains surrounding Charlottesville or even in the woods in my Earlysville, VA, backyard. In fact, I'm just glad no one has written a blog post with proof that hiking makes you unhappy and unhealthier because I'd really be in trouble.
I often turn to The Huffington Post's The Third Metric blog for stories about challenging, "...the current model of success -- which equates success with burnout, sleep deprivation, and driving ourselves into the ground." The first time I heard about Arrianna Huffington's Third Metric efforts was when she and Dr. Deepak Chopra visited the University of Virginia on 15 October 2013 to celebrate the opening of the Contemplative Sciences Center at U.Va. It was a special day and I wrote both about her Third Metric work as well as Dr. Chopra's public meditation on the U.Va. Lawn.
Last Friday, The Third Metric blog delivered once again with a post by Abigail Wise. Proof That Hiking Makes You Happier and Healthier is a short piece that assembles some great research on why hiking helps you to:
Be creative. (Stanford University researchers have proof that moving makes you more creative than sitting.)
Get fit. (Yes you burn calories, but I was pleased to learn that, "…altitude itself has also proven a weight loss ally."
Heal. (We're talking cancer healing not just cardiovascular benefits!)
Get happier. (Hiking is helpful for those struggling with the terrible pain of depression as well as those of us who have a more moderate case of the down in the dumps.)
Finally, you'll find several good tips for how to make hiking manageable and integrate it into your life whether you're an experienced trailhead or a novice trying to get started.
Now, I hope you'll indulge me in a moment of personal pride that two months ago I somehow managed to keep up for a 13.2-mile hike called Three Ridges with an elevation of 3,960 feet and three really, really high peaks. It may have taken me seven hours, but it was worth every moment and I definitely wouldn't have wanted to miss this sunset view from the third peak.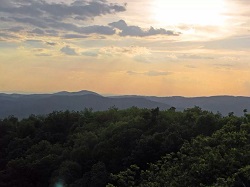 Photo by: Carl Schwarz
I'll never be a marathoner like my brother and my father before him, but what I love about hiking is that it's an endurance sport that many more of us can enjoy. When the elevations got especially high and my mind started to tell me, "This is too hard for you," a few of the breathing exercises and affirmations in this blog post helped me to keep going. (I do my best to practice what I preach and this hike gave me a lot of opportunities!)
Whether you want to wander around the closest woods to your backyard, find a trail in your local park, or get yourself to some higher peaks, I hope you'll consider taking a hike. If you need even more proof, "...that you can ease brain fatigue by simply strolling through a leafy park" or "...even viewing green spaces from your office window," check out this post about a new study out of Scotland featured in The New York Times Phys Ed section last March.