What We're Reading Now
Project Management for Everyone
17 March 2015
Allison read the course description and watched the introductory video for a free, online Fundamentals of Project Planning and Management class taught by Professor Yael Grushka-Cockayne. The University of Virginia Darden School of Business is offering this four-week course so that everyone can learn why this topic doesn't have to be so hard.
Tags: allison read, allison watched, project management, uva, virginia festival of the book
I met Professor Yael Grushka-Cockayne at a Darden dinner last year and listened to her talk about project management as though it were the most delightful way to make all your dreams come true. This was pretty interesting given that just moments before a table full of business people were talking about how project management is one of the hardest things for many of their employees to learn. (That's certainly consistent with what I've heard from my clients, too.)
I wasn't surprised to discover how much I enjoyed listening to Yael talk about one of her passions because a month earlier I had heard about Yael from my friend, Jane Kulow. As fellow reading junkies, we were having lunch to celebrate her new job as the Program Director of the Virginia Festival of the Book. I asked her how planning for the 2015 festival was going and she said that they were working with Yael to learn more about professional project planning. Jane said at first that she and her team were a bit doubtful and maybe even a little cynical about the possibilities of Yael's approach, but that as she worked with them they began to realize that her methods really were of the dream-come-true variety. Take a look at this week's Festival schedule and I think you'll agree it's no small feat to pull off an event of this magnitude (400 authors, 200 programs, 77 venues, 69 debut authors, and 20,000 attendees for the past 12 years).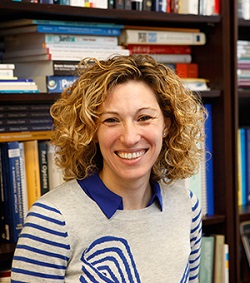 Professor Yael Grushka-Cockayne
Therefore, when I received the announcement that Yael would be teaching a free four-week online course called Fundamentals of Project Planning and Management, I was excited to share the good news. Watch Yael's introductory video and read the course outline here. I think you'll enjoy her infectious enthusiasm for this topic that stumps so many of us and be impressed by the substance of the learner outcomes and suggested readings. Whether you want to manage a construction project, develop a new medical device, plan a school fundraiser, write a book, or plan a wonderful family vacation, this course begining 20 April 2015 should be helpful.
I'm about to go to my first of nine Virginia Festival of the Book events tonight. (Take a look at last Tuesday's post to learn which ones I picked.) This is the 21st Annual Festival and I've attended more than half of them. They've all seem beautifully orchestrated to me so I'm looking forward to finding out what project planning and management did for this year's Festival. My guess is that it will enhance the participant and author experience in many ways, but that the main benefit will be that employees and volunteers feel even better about the months leading up to the festival as well as this coming week. I look forward to getting their feedback.