What We're Reading Now
Navigating Your Health Care
18 October 2016
Allison read Is Patient-Centered Care Always a Comfort? and appreciated Sarah Freymann Fontenot's always thoughtful insights into the ever-changing health care industry.
Tags: allison read, health care, healthcare, mindfulness, physician leaders
Sarah Freymann Fontenot and I serve on the faculty of the American Association of Physician Leadership. She's a nurse and lawyer and specializes in helping both individual Americans and health care administrators understand the "rapid, ongoing changes in health care [that] have led to confusion and uncertainty nationwide." Sarah is super smart but also very easy to understand and delightfully funny. If I'm going to learn something complicated, I would prefer to smile while doing so and Sarah always delivers.
I've been meaning to blog about her twice-monthly newsletter, Fontenotes, for some time now as I think it's a great resource for all of us trying to navigate the health care system. You'll find information on changes to Medicare and help understanding the Affordable Care Act, but you'll also get insights on how changes in the health care system may be impacting you on an even deeper level. Her post last week, Is Patient-Centered Care Always a Comfort? addresses this deeper level I'm trying to describe.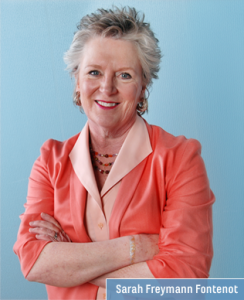 Sarah and her family have been coping with a difficult diagnosis for a member of their tribe. As you read her story, you'll probably find yourself nodding about the pressure you feel to make sure you and yours are getting the right health care. In many ways, this is a good thing. We want patients and their families to be more involved in their care. In this edition of her newsletter, Sarah explains the evolution of concepts like patient-centered care and bedside rounding.
However, there are perhaps also some unintended consequences. Sarah shared about her own recent experience, "My heart was torn this week watching good smart people wrangle with decisions far beyond their expertise or knowledge." As I reflected on Sarah's post, I realized that I'm going to try to help myself and others think about how much responsibility we want to take for our own patient-centered care versus when we want to lean into the expertise of the health professionals caring for us. At minimum, I'm going to do a better job of being mindful of how the stress of this new development in health care may be impacting us during an already difficult time.