What We're Reading Now
Mindfulness for Your Children or Your Inner Child
24 December 2013
Allison read Sitting Still Like a Frog: Mindfulness Exercises for Kids (and Their Parents) by Eline Sline and was so glad to learn about a mindfulness book and audio exercises for the child in all of us.
Tags: allison read, balance, children's book, mindfulness, picture books
Whenever, Rachel says, "I think you're really going to like this book," I always know I'm in for a treat. I read Sitting Still Like a Frog: Mindfulness Exercises for Kids (and Their Parents) by Eline Snel with a smile on my face the whole time. It's full of examples about Snel's work with her own children and hundreds of other children in Netherlands and around the world. Through the stories she tells and the accompanying audio CD, I think children (and adults) will find it fun and even easy at times to build skills to help, "deal with anxiety, improve concentration, and handle difficult emotions."
While I think it would be wise to read the book and listen to the CD before sharing it with kids, I can imagine that reading it with them and doing the audio exercises together will lead to some very interesting conversations and good giggles. I don't have children, but I do spend a whole lot of time with them. Their willingness to be adventurous, silly, serious, imaginative and experimental is exactly what I find I have to access in myself whenever I want to learn a new mindfulness practice.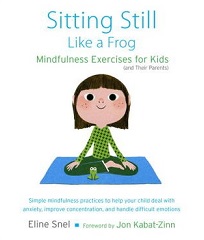 While the book is written for children and their parents, I'll also be recommending it to adults without children who want to explore mindfulness. I especially like Sline's definition of mindfulness. "[It] is nothing other than present-moment awareness, an open and friendly willingness to understand what is going on in and around you. It means living in the present moment (which is not the same as thinking about the present moment) without judging or ignoring anything or getting carried away by the pressures of everyday life."
I've yet to meet the grown-up who isn't craving at least one of these things: increased balance, reduced stress, more restful sleep, happier feelings, the discipline to exercise and eat healthier, a better way to deal with disappointment and sadness or a greater sense of satisfaction and well-being about their lives. Mindfulness is a great way to access these things, and yet, much of what is written about mindfulness feels a little out of reach and difficult to understand. (I made an attempt to curate some of my favorite mindfulness resources in last year's Mindfulness Made Manageable blog post.)
Sline's style and tone is warm and accessible, but far from childish. That's why I think the inner child in many grown-ups might appreciate this book for themselves whether or not they currently have children in their lives. I'm pretty sure the opening story will speak to a lot of us, "At the age of five, my daughter had trouble falling asleep. Young as she was, she often asked me 'When your body wants to sleep but your head says no, how do you get to sleep?'" Read on and you'll learn an easy tool for focusing on your breathing and your belly since there are no thoughts in your belly. There is also a five-minute exercise on the audio CD called, "Sleep Tight."
I'm writing today in the backseat of the car as my parents and I drive from Charlotte to Durham, NC to visit my brother, sister-in-law and their three kids. I'll be putting a copy of Sitting Still Like a Frog under their Christmas tree and am excited to find out what they think.