What We're Reading Now
Mindfulness Can be Messy and Unpleasant
29 December 2015
Allison read If Mindfulness Makes You Uncomfortable, It's Working by Amy Jen Su and appreciated both the specific techniques for using mindfulness to improve leadership in the workplace as well as her candor about how unpleasant it can be.
Tags: allison read, balance, leadership, mindfulness
I've been doing my best to follow my own advice in last week's blog post. I've given myself the gift of doing nothing the last two days and remembering that it's not always a super satisfying experience. I know that I always come back more rested and resilient after a time of doing less, but while it's happening I have to work through some regret over being unproductive and feeling kind of slovenly.
As I was searching for a topic for today's blog post, I was also reminded how hard it is to pull out of doing nothing into doing something a bit more industrious. I think that's part of why doing nothing sometimes scares us. We're afraid we won't be able to get back to our responsibilities. I was grateful to quickly discover a topic tonight on HBR.org, Amy Jen Su's post, If Mindfulness Makes You Uncomfortable, It's Working.
Mindfulness sometimes creates a similarly unsatisfying feeling in me as trying to do nothing. If I slow down, do my breathing exercises, and notice what I'm feeling and thinking, the news is not always good. Mindfulness is almost always a path to feeling better for me, but sometimes I have to wade through some unpleasant inner truths to get to a better feeling or the behaviors that will help me to feel better. It was comforting to read Jen Su's post and be reminded that being uncomfortable might be a sign I'm doing mindfulness just right.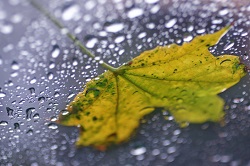 In her post, you'll get concrete examples of how two executives used mindfulness to address their goals for being a better delegator and being more patient. They didn't like some of what they discovered about themselves, but that awareness helped them to make important changes. And it's worth getting to the end of Jen Su's post to discover this insight,
"Mindfulness is not all gloom and doom, nor is it all sunshine and flowers. With mindfulness, we are just a little less tossed around by running away from or crushing what feels bad. We're less compelled to indulge in our desires and excesses for what gives us a temporary high. Instead, we see with greater clarity just how blue the sky is on a beautiful day and we see and feel the depths of our hearts being pierced when we've experienced a meaningful loss. And somewhere in that fuller human experience, we connect and tap into a deeper source of motivation and choice that is more aligned with our integrity, our values and ethics, and our authentic essence."
Thank you, Amy Jen Su, this was just the encouragement I needed to help me hang in there with doing a little more nothing this week and sticking with my mindfulness practices.