What We're Reading Now
It's Never Too Late
03 July 2012
Allison read Mel's Tips for Healthy Living by Canyon Ranch founder Mel Zuckerman and was glad she got to meet this 84-year old change agent at the first annual Allison Partners leadership retreat.
Tags: allison partners favorite, allison read, balance, canyon ranch, happiness, health care, healthcare
Our Vice President at Allison Partners, Rachel Brozenske, and I have dreamt about going to Canyon Ranch for a very long time. Their motto is The Power of Possibility and we really believe in their 30-year commitment to "empowering people to live healthier, longer, more joyful lives through fitness, nutrition, stress-management and integrative wellness." It's just up our alley.
We often facilitate other people's leadership retreats and we felt it was time for our own, so we headed to Lenox, MA for a few days of reflection, relaxation and rejuvenation. With everything from fitness classes to educational opportunities, from spa services to food that was both healthy and tasty, Canyon Ranch was the perfect spot to think big thoughts about the future of Allison Partners.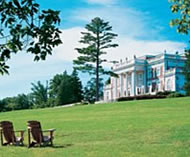 But the real purpose of today's blog post is to tell you about Canyon Ranch's founder, Mel Zuckerman. He readily admits that he didn't start life as much of a role model for healthy living. "For the first 50 years of my life, I lived with lots of physical limitations, and abdicated everything in regard to my health, well-being and aging to my doctors, to drugs and to fate." His story about hitchhiking out of fat camp on day three because he was so embarrassed that he couldn't keep up with the women is poignant, and he tells this and other stories to help others overcome their own barriers to change.
Mel had a transformational turnaround at age 50 with the help of a great trainer and slowly but surely changed his fate (just like Merida in the new Disney movie, Brave, says you can). He also attended to all of the important mindfulness and habit changes necessary to truly walk down the path of integrated wellness. He and his wife started the first Canyon Ranch in Tucson, AZ in an effort to help other people with their own journeys. Last year he organized all of his life lessons and wisdom in a funny, easy-to-read, short book called Mel's Tips For Healthy Living. He'd be the first to tell you that there isn't that much new under the sun in his book, but I'm here to tell you that its matter-of-fact practicality and humor is the perfect "reset" button if you're trying to make some changes in your life or if you need a quick reminder from time to time about the things you need to do to take care of yourself.
Mel shares his personal struggles and triumphs humbly and admits with candor the things he still finds challenging. He starts Chapter 6, "Why You Need a Good Night's Sleep—And How to Get It," by writing, "I feel a bit hypocritical writing this chapter, because I am and always have been a terrible sleeper." Statements like this keep the book from feeling preachy or condescending. Rather, you'll just feel like this wise (and spritely) grandfather took the time to tell you a story about all he's learned in his life and all of his hopes for you. I hope you can get to the Ranch yourself one day, but until then, I suggest you get a copy of Mel's book so that you don't have to wait for his wisdom. It's good stuff.