What We're Reading Now
Inspiration for ALL
2 September 2014
Allison read the Chamber Minority Business Conference Web Site and started to get excited for another dose of inspiration from an outstanding day of programming including two of her favorite speakers, Professor Gregory Fairchild and Dr. Pamela Ross, on 16 September 2014. This conference is sure to deliver inspiration for ALL of us!
Tags: allison read, diversity
It's been my pleasure to be involved in the Chamber Minority Business Council since 2011. At that time, members of the Charlottesville Dialogue on Race and the Charlottesville Regional Chamber of Commerce decided our community could be doing more to support the advancement of minority-owned business. If you're curious about what led to the creation of the CMBC as well as how the organization works, check out my 2012 conference blog post.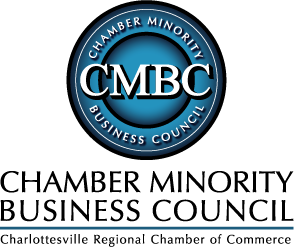 Last year, before the 2013 conference I got a lot of questions from my white colleagues in town wondering why I was inviting them to the conference. Those candid and thoughtful inquiries led to some wonderful dialogue about why I believe the CMBC is good for ALL members of our community and why ALL business people should certainly consider attending. I summarized my answers to those questions in this blog post.
Today, I'm excited to tell you about our 2014 conference. Once again, we have a great day planned that I believe will provide meaningful networking and educational opportunities for ALL of us. I'm especially excited that my friends, Professor Gregory Fairchild and Dr. Pamela Ross, will be two of our speakers.
I first met Professor Fairchild in the fall of 2000 during his first semester of teaching at the University of Virginia Darden School of Business. I was a rising second year on my way to starting a new business and Professor Fairchild's Introduction to Entrepreneurship class was transformational for me in both its attention to theory and practicality.
I still remember when Greg brought in Toan Nguyen, a Darden alumnus and the owner of C'Ville Coffee, to talk about the risks and rewards of being an entrepreneur. At that time, Toan's now wildly successful C'Ville Coffee was struggling through the early years of a new venture. Toan was candid in a way no other speaker had been at Darden about the hard work of starting and running a business and his lessons are still helpful to me as a business owner. Toan has gone on to support other entrepreneurs through a variety of endeavors including the Community Investment Collaborative.
In the last 14 years, Greg's scholarship has delved into all sorts of cool stuff. Check out his web site at Darden and you'll see why we're so thrilled he's our keynote speaker at this year's conference on 16 September 2014. You may be thinking, "But wait! I'm not an entrepreneur." Whether you've started or want to start a business, I believe you'll find something meaningful in what Greg has to say about overall business strategy, leadership, and ethics. Or perhaps you'll be inspired by his work as an academic director for Darden's Institute for Business in Society (IBiS). No matter what, I guarantee Greg's speech will inspire and help you think about your work life differently.
Before Greg speaks, we'll enjoy a Morning Motivation from Dr. Pamela Ross, founder & owner of Holistic Medical Consultants. I first met Pam through her work as an Associate Professor of Emergency Medicine & Pediatrics at University of Virginia. I've cheered for Pam as she made the leap to leave fulltime academic medicine and follow her passion to help people work toward a holistic approach to healthcare in their lives as individuals and for organizations as a whole. Whenever I'm with Pam, I enjoy her calm, cheerful courage in the midst of all challenges. (I'm guessing that energy was pretty nice to have around a bustling Emergency Room.) As Pam opens up our day, I believe you'll get inspiration for making any big change in your life or your organization as well as holistic thinking about wellness.
Check out the conference web site and you'll learn more about our great breakout sessions, speed networking, elevator pitch competition, and exhibitors. At just $40.00 for Chamber Members and $50 for non-members, I think you'll find this is one of the most affordable, beneficial, and fun conferences you'll have the chance to enjoy in Charlottesville. This is Allison Partners' third year as a sponsor of the conference and we're delighted to be a part of such a super experience. Please join us and spread the word!