What We're Reading Now
Inspiration and Education in Forward / Adelante
14 January 2014
Allison read Forward / Adelante and enjoyed the opportunity to learn more about Spanish-speaking businesses as well as a wonderful dose of inspiration from local entrepreneurs.
Tags: allison read, communication, diversity, leadership
I try to do what I can to support the celebration and inclusion of diversity in all walks of my life. We know that organizations and teams are more creative and ultimately more effective when they leverage the power of differences. However, it can sometimes be hard to get to know people who are different from us. As a part of that goal, I'm always on the lookout for ways to learn about different cultures and experiences.
I grew up in Maitland, FL, just outside of Orlando from the time I was 10-years old until I was 18. This meant that I was immersed in a wonderfully diverse environment including the lovely sounds of Spanish everywhere I went. My high-school boyfriend was Puerto Rican American and the integration of Latino experiences were just a natural part of everyday life. When I came to the University of Virginia in 1991, one of the first things I noticed was the lack of Spanish as well as fewer Hispanic people and influences. It was a void in my life that took some time to fill.
As I've built my life in Charlottesville and gotten involved in organizations like the Chamber Minority Business Council, I've appreciated the opportunity to reconnect with more Hispanic colleagues. I'm especially grateful to Olga Morse, a local realtor, and the Founder of Forward / Adelante.
"Forward / Adelante (F/A) bridges the gap of language and culture to enable Spanish-speaking businesses to communicate with and access the services and information offered by their English-speaking and more established counterpart. We encourage a two-way relationship between both parties by creating multi-faceted tools for reaching out, including our signature Chapter 6 Networking events, our monthly e-Journal, online social media presence, Out and About events, bilingual print journal, and active participation with several Chambers of Commerce and government resource centers."
I enjoy all of the different ways that F/A builds bridges, but I especially look forward to the bilingual print journal. The Fall 2013 edition is on newsstands now and is full of educational information and inspiration. You can read the journal online, but if you're a local, I think there's still something special about perusing the publication in print.
As you read through the different articles, I believe you'll enjoy two inspiring stories that may help you to find your courage when you're feeling a quart low on inspiration. In The Beginning of Your Life on page 14, you'll learn about how Cynthia Murray found the bravery she needed to start Cynthia Murray Enterprises. I imagine you'll also be moved by the perseverance to succeed in spite of some really tough setbacks highlighted in Beating the Odds: Rojas Steven Painting on page 24.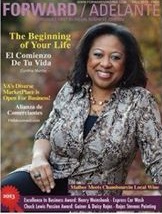 Are you curious about Forward / Adelante? I hope you'll join me at their upcoming FABA Networking Meet-Up event on 4 February 2014. It's free and open to all. Let's go build a few bridges together.